💬
Full collection of animated Skype emoticons for the Skype platform
Skype emojis are emojis that are displayed as small moving standard images. There are over 586 Skype emojis that are divided into categories such as: 🤣 Emojis, personal emoticons, 👋 Gestures and hands and, people, 🐈 Animals, 📮 Items and hidden emojis. The latter are needed to depict more complex emojis or to cheer up your companion.
How do I add Skype emojis to a message?
Skype emojis can be added to a message by clicking on the selected emoticon in the chat or using the codes that can be found in Skype Help.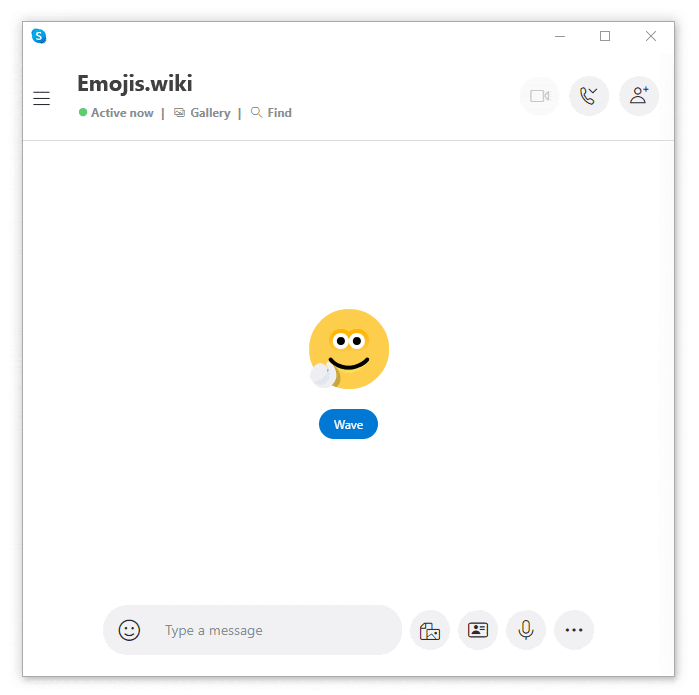 To see what keyboard shortcut you can type an emoticon, you need to move the mouse pointer over it.

It is also possible to customize the emoji image before sending the gray dot emoticon message. For example, instead of 🙂 Slightly smiling face emoji choose a picture of a monkey, robot, koala, cat or dog. To do this, you need to right-click on the desktop, and on the phone, tap and hold the selected emoji.

You can also add emoji to the mood indicator in your Skype profile so that people you know can see your current state and mood.

Use Skype emojis to express your emotions and feelings, tell about your favorite food, the weather, situations that happened to you or your place of work, as well as portray a character from a cartoon, TV series, film, and so on.

Here is the current list of animated emojis:


Exclusive emojis from Skype:
| | |
| --- | --- |
| Doh! | |
| Don't talk to me | |
| Dreaming | |
| Evil Grin | |
| Emo | |
| Envy | |
| Festive party | |
| Happy | |
| Happy Face | |
| Banging head on wall | |
| Listening to headphones | |
| Holiday spirit | |
| Morning after party | |
| Idea | |
| Laugh | |
| Global Learning | |
| Like | |
| My lips are sealed | |
| Love Earth | |
| Make-up | |
| Malthe | |
| Mmmmm… | |
| Mystery Skype | |
| Blessing | |
| Nodding | |
| Rainbow smile | |
| Santa | |
| Selfie Diwali | |
| Shake | |
| Spoiler alert | |
| Speechless | |
| Talking | |
| Talking too much | |
| Waiting | |
| Worried | |
| Xmas crying with laughter | |
| Xmas Sarcastic | |
| Heston Blumenthal | |
| Heston Facepalm | |
| Anger | |
| Disgust | |
| Fear | |
| Joy | |
| Sadness | |
| Diwali Selfie | |
| Aoki jump | |
| Cake throw | |
| Bandit | |
| Captain Phasma | |
| Day of the dead (female) | |
| Day of the dead (male) | |
| Kolony | |
| Kylo Ren | |
| Rudolf idea | |
| Surprised Rudolf | |
| Steve Aoki | |
| Storm trooper | |
| Xmas Cry | |
| Flying Ant | |
| Ghost | |
| Truck riding | |
| Wasp | |
| Wasp grow | |
| Ant-Man | |
| Auld | |
| Man playing football | |
| Beckett | |
| Bhangra | |
| In love pose | |
| Bottle feeding | |
| Bowing | |
| Bowled | |
| Busy day | |
| Slipper | |
| Cheerleader | |
| Chewie | |
| Computer rage | |
| Feeling sweet! | |
| Dad time | |
| Dancing | |
| Frost Wizard | |
| Disco dancer | |
| Enfys Nest | |
| Falling in love | |
| Football fail | |
| Forever love | |
| Dancing gran | |
| Granny scooter | |
| Hank Pym | |
| Mom-mello | |
| Jane Goodall | |
| Sorry | |
| L3-37 | |
| Lando | |
| Lang | |
| Man Award | |
| Man blow kiss | |
| Man bottle feeding | |
| Man Busy Day | |
| Man gamer | |
| Man Hiker | |
| Man holding baby | |
| Love cat (male) | |
| Love dog (male) | |
| Man Motorbike | |
| Man Recycling | |
| Man sign love | |
| Man Skipping | |
| Man VR player | |
| Mariachi love | |
| Mummy walk | |
| Muscle and fat guy | |
| No! | |
| Ninja | |
| Man taking a photo | |
| Promise | |
| Pull shot | |
| Qi'ra | |
| Girl shopping | |
| Skate | |
| Keep fit | |
| Skipping | |
| Solo | |
| Stop | |
| Suryan Namaskar | |
| Synchronized swimming | |
| Syne | |
| Archery | |
| Tennis fail | |
| Thanks | |
| A man and his dog | |
| Trampoline | |
| TV binge zombie | |
| Podium | |
| Witch | |
| Woman receiving award | |
| Woman blow kiss | |
| Woman playing football | |
| Woman gamer | |
| Woman Hiker | |
| Woman holding baby | |
| Love cat (female) | |
| Love dog (female) | |
| Woman Motorbike | |
| Woman pregnant | |
| Woman Recycling | |
| Woman riding bike | |
| Woman shrug | |
| Woman sign love | |
| Woman VR player | |
| Zombie | |
| Zombie wave | |
| Call | |
| Clapping | |
| Dead yes | |
| Drop the mic | |
| Fingers crossed | |
| Fist bump | |
| Glass ceiling | |
| Hands celebrating | |
| Heart hands | |
| Hi | |
| High five | |
| Lalala | |
| Listening | |
| Nature's call | |
| Poke | |
| Punch | |
| Rock | |
| Sarcastic | |
| Slap | |
| Talk to the hand | |
| Too much information | |
| Wait | |
| Relieved | |
| Whistle | |
| Woman of the year | |
| Xmas yes | |
| Acorn | |
| Bat cry | |
| Bat smile | |
| Bug | |
| Bunny hug | |
| Chewbacca | |
| Donkey | |
| Ganesh | |
| Ginger keep fit | |
| Hedgehog | |
| Squirrel | |
| Hungry cat | |
| Laugh monkey | |
| Love bites | |
| Monkey giggle | |
| Moving home | |
| Orangutan scratch | |
| Penguin kiss | |
| Polar bear | |
| Porg | |
| Porg surprised | |
| Angry Red | |
| Reindeer | |
| Rock chick | |
| Sloth | |
| Snail | |
| Snow Angel | |
| Stingray | |
| Unicorn | |
| Werewolf howl | |
| Year of the dog | |
| Year of the fire rooster | |
| Year of the Monkey | |
| Year of the pig | |
| Cool cat | |
| Cool dog | |
| Cool koala | |
| Cool monkey | |
| Cool robot | |
| Heart eyes dog | |
| Heart eyes koala | |
| Heart eyes monkey | |
| Heart eyes robot | |
| Laugh dog | |
| Laugh koala | |
| Laugh monkey | |
| Laugh robot | |
| Sad cat | |
| Sad dog | |
| Sad koala | |
| Sad monkey | |
| Sad robot | |
| Smile dog | |
| Smile koala | |
| Smile monkey | |
| Black Broken Heart | |
| Blue Broken Heart | |
| Green Broken Heart | |
| Purple Broken Heart | |
| Yellow Broken Heart | |
| Black Ribbon | |
| Blue Ribbon | |
| Green Ribbon | |
| Pink Ribbon | |
| Red Ribbon | |
| Yellow Ribbon | |
| Abe | |
| Football Eyes | |
| BB-8 | |
| BB-9E | |
| Be right back | |
| Cactus love | |
| Coffee | |
| Dreidel | |
| Eid | |
| Confusion | |
| Great pear | |
| Holi | |
| I heart you | |
| What! | |
| Sweet | |
| Love gift | |
| Millennium Falcon | |
| Mistletoe | |
| Mum heart | |
| Red Square | |
| Oye | |
| Paris love | |
| Piggy bank | |
| Sparkler | |
| Statue of Liberty | |
| Tandoori chicken | |
| TIE fighter | |
| Tubelight | |
| Tumbleweed | |
| Dancing Thanksgiving turkey | |
| Can't unsee that | |
| Web heart | |
| Working from home | |
| What's going on? | |
| Who's this!? | |
| Wind turbine | |
| Xmas Car | |
| Xmas Heart | |
| X-wing | |
| Can you talk | |
| Access | |
| Bing | |
| Drunk | |
| Excel | |
| Finger | |
| Groupme | |
| Internetexplorer | |
| llsshock | |
| Microsoft | |
| Mooning | |
| Neil | |
| Oliver | |
| Onedrive | |
| Onenote | |
| Ontheloo | |
| Outlook | |
| Poolparty | |
| Poop | |
| Powerpoint | |
| Publisher | |
| Santamooning | |
| Sharepoint | |
| Sheep | |
| Peter | |
| Skype | |
| Skypebiz | |
| Smoke | |
| Tauri | |
| Win10 | |
| Word | |
| Wtf | |
| Xbox | |