♻️

Recycling Symbol Emoji
Recycling Symbol Emoji Meaning
Recycling Symbol emoji is three arrows following each other in a triangle shape. It is the universal symbol for recycling. The arrows represent the cycle of reduction, reuse, and recycling.

Plastic, paper, 🪵 Wood, cardboard, and much more can be broken down and created into a different product with a whole new use. By doing this, we reduce the amount of garbage in landfills and help reduce our impact on 🌎 Earth. To help spread awareness of the need to recycle, send this emoji along with the 🗑️ Wastebasket emoji and 🥤 Cup With Straw emoji to show what can be thrown away in a recycling bin.
Copy and Paste:
Contents:
---
Phrases Examples
Popular phrases for messaging and web communication:
Tap / click to copy & paste
I've set up some house rules to help us ♻️ better
Cardboard can be ♻️ right?
---
Combinations with ♻️
Combinations are just a bunch of emojis placed together, like this: ♻️📄. Combos allow for the creation of wordless riddles or messages.
Tap / click to copy & paste
---
Relevant kaomoji
Kaomoji are prevalent in Japan for expressing emotions and depicting scenarios through Japanese grammar, punctuation, and characters. Like this: ♻️! Make your messaging and web presence stand out and impress friends with this imaginative style.
Tap / click to copy & paste
---
Look across different devices
Emojis may look different across platforms. Every web service, OS, or gadget manufacturer may create an Emojis design according to their corporate style and vision. Here you can check out how ♻️ image Emoji looks like on most popular platforms: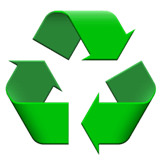 Apple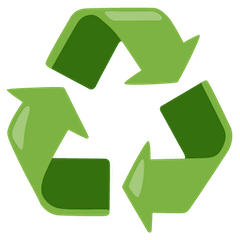 Google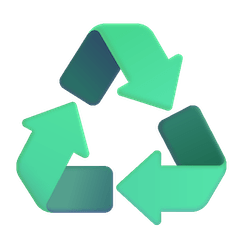 Microsoft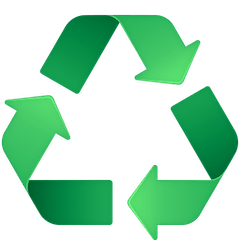 Facebook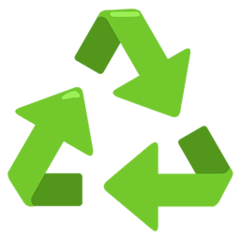 Messenger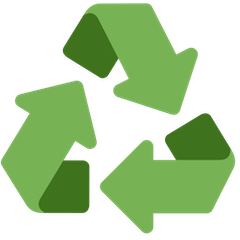 Twitter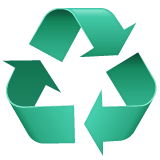 WhatsApp

Samsung

LG

HTC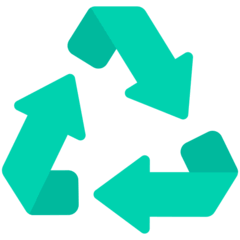 Mozilla

SoftBank
au by KDDI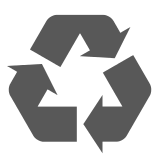 Docomo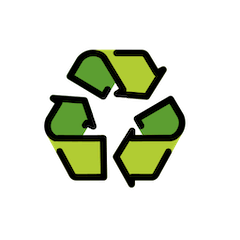 Openmoji
See also
Related Themes & Holidays
General information
Category
💯 Symbols
Subcategory
🔱 Other Symbol
How to type shortcode
Unicode (fully-qualified)

♻️

U+267B U+FE0F
Unicode (unqualified)
♻ U+267B
Made with
U+267B ♻ Recycling Symbol
U+FE0F Variation Selector-16
Unicode version
Unicode 3.2 (2002)
Listed in
Emoji Version 1.0
Translations and keywords