👌

OK Hand Emoji
Meaning of
👌

OK Hand Emoji

OK Hand emoji is the picture of a hand gesture, which is commonly used instead of saying OK — and not only online like the so-called 🙆 Person Gesturing OK emoji, which is never seen in real life (at least, in this meaning). It looks like a circle made by an index finger and a thumb with all other fingers pointing up. The meanings in which it is used are obvious — it is a recognized sign of approval of some offering, agreeing with some statement, or just saying that the user is absolutely fine as the answer to the questions like "How are you?".

Copy & Paste this emoji:
Contents:
---
Examples of
👌

OK Hand Emoji using

Popular phrases with 👌 OK Hand Emoji to use in messengers and the web:

Tap / click to copy & paste

Okay, I love your idea 👌

You look just fine 👌
---
Combinations with
👌

OK Hand Emoji

Combinations are just a bunch of emojis placed together, like this: 🌝👉👌💻📼👈⏳🌚. You can use combos to make riddles or messages without words.

Tap / click to copy & paste

🌝👉👌💻📼👈⏳🌚

— Did you choose a movie?

👌💙🌸

— Do you like blue flowers?

👌🏻💅🏻💄🎶

— Preening to music

👌🏻💅🏻💄

— Cool transformation

🚰👌

— Here is potable water

👌🤧💪

— Sneeze in your elbow

👨‍👩‍👧‍👧👌🧑‍🎓

— My relatives are proud of me

🤵‍♂️👌

— Nice suit you're wearing

🧑‍🦱👌

— Curly hair is not so bad
---
Relevant kaomoji
Kaomoji are popular in Japan for sharing emotions and situations using Japanese grammar, punctuation, and characters. Like this: ヾ|*゚ω゚|ゞ! To impress your friends, you can use this creative style in messengers and the web.
Tap / click to copy & paste
ヾ|*゚ω゚|ゞ
(・ω´-ゞ)^☆
ヽ( ˘з˘ )ゝ
(;・ε・)ゝ"
*~ヽ(ゝз・☆)
(。・ω・。)ゞ
ヽ( ˘ω˘ )ゝ
c(>ω<)ゞ
(〃´3′〃)ゞ
✧・゚:*( ͡ꈍ ͜ʖ̫ ͡ꈍ )*:・゚✧
\((( ̄( ̄( ̄▽ ̄) ̄) ̄)))/
┌( ͝° ͜ʖ͡°)=ε/̵͇/''
ᕕ( ᐛ (☞ ͡° ͜ʖ ͡°)☞
\\\\٩(๑`^´๑)۶////
(つ .•́ _ʖ •̀.)つ
///(^v^)\\\\\\
<(´ ՞)ਊ( ՞ )>…
o__o( l u l )
\\( ° 0 ° )/
//(^v^)\\\\
ᕙ( • ‿ • )ᕗ
q==(^_^)==p
\\_(^.^)_/
\\(*^_^*)/
(👍°ヮ°)👍
༼ つ ◕◡◕ ༽
•°(°^°)°•
ヾ(@⌒ー⌒@)ノ
ヾ(≧∪≦*)ノ〃
٩(๑❛ᴗ❛๑)۶
o(*^▽^*)┛
\\_(o_o)√
┏ (゜ω゜)=☞
💪(❤.❤)👌
(^◕.◕^)~
(ᴗ ͜ʖ ᴗ)
_(* ̄0 ̄)ノ
(^\\u/^)
\\(*О*)/
\\(^_^)/
^ ^=•ㅈ•=
༼つ◕_◕༽つ
-(^o^)-
(っ◔◡◔)っ
\(^o^)/
╰(^3^)╯
✓|°•°|✓
ヽ(`⌒´)ノ
ヾ(^-^)ノ
φ(* ̄0 ̄)
✌(❤◡❤)✌
(≧∇≦)ノ
(•_+)✓
(^w^)
ᕕ(ᐛ)ᕗ
(≧∀≦)
୧ ̄ヮ ̄୨
/•✓•/
{:d}
---
👌

OK Hand Emoji Skin Tones Modifiers

Tap / click to copy & paste
---
👌

OK Hand Emoji look across different devices

Emojis may look different across platforms. Every web service, OS, or gadget manufacturer may create an Emojis design according to their corporate style and vision. Here you can check out how 👌 OK Hand Emoji looks like on most popular platforms: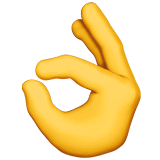 Apple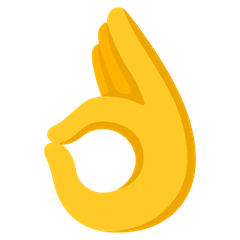 Google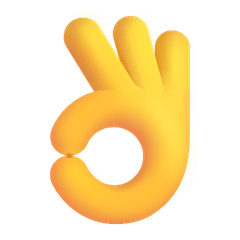 Microsoft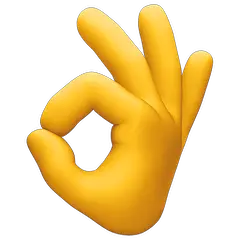 Facebook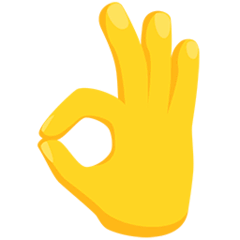 Messenger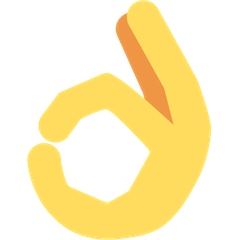 Twitter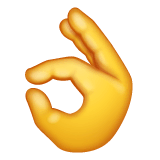 WhatsApp

Samsung

LG

HTC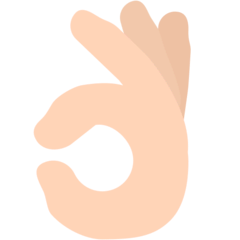 Mozilla

SoftBank
au by KDDI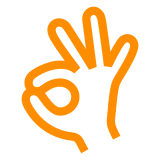 Docomo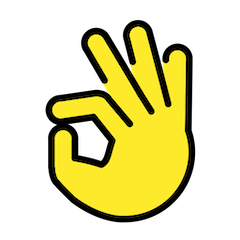 Openmoji
Related Emojis
Related Themes & Holidays
General information about
👌

OK Hand Emoji
Read more
Translations and keywords for
👌

OK Hand Emoji