✨

Sparkles Emoji
Meaning of
✨

Sparkles Emoji

The Sparkles emoji ✨ looks like three distinctive sparkles or four-point stars, mostly of 🟡 Yellow color (though in some versions other colors are used). This symbol is often used to indicate something shining, glittering, or just absolutely clean. It can also be used to put emphasis on something. Additionally, it is sometimes used to indicate something gorgeous — from mood to look — and in the meaning of "👍 good", "🪄 magic" and "✅ true". Finally, it is used in its direct meaning of "stars in the sky".
Snapchat meaning
Gold ⭐ Star emoji is one of the Trophies, 🔓 Unlocked in the 🏆 Trophy case when the user's Snapchat score reaches 1, 000.
Copy & Paste this emoji:
Contents:
---
Examples of
✨

Sparkles Emoji using

Popular phrases with ✨ Sparkles Emoji to use in messengers and the web:

Tap / click to copy & paste

Check out my jewelry! ✨

I'm feeling fabulous ✨

This is gorgeous! ✨

My cat has ingested an entire container of glitter! ✨
---
Combinations with
✨

Sparkles Emoji

Combinations are just a bunch of emojis placed together, like this: 👨‍🎤👩‍🎤🤹‍♂️✨. You can use combos to make riddles or messages without words.

Tap / click to copy & paste

👨‍🎤👩‍🎤🤹‍♂️✨

— Street Parties

👱‍♀️🦁🥀❤️✨

— Beauty and the Beast

😊❤️✨👣

— Walk with your loved one

✨🍀✨

— Happy Saint Patricks day!

✨🌛😇

— Contemplating the night sky

✨😈☝️

— Dark mark in the sky

✨👗🧚‍♀️💃

— Bright, carnival costumes

🎉✨👹☠️

— The celebration of death
---
Relevant kaomoji
Kaomoji are popular in Japan for sharing emotions and situations using Japanese grammar, punctuation, and characters. Like this: *:・゚✧! To impress your friends, you can use this creative style in messengers and the web.
Tap / click to copy & paste
*:・゚✧
☆__☆
☆゚. * ・ 。゚,
(∩`-´)⊃━☆゚.*・。゚
(ノ◕ヮ◕)ノ*:・゚✧(∩`-´)⊃━☆゚.*・。゚
☆*: .。. o(≧▽≦)o .。.:*☆
٩̋(•᷄◟̵◞̵•᷅‧̣̥̇)'`~✧٩
*・゚゚・*:.。..。.:*゚:*:✼✿
✧⁠◝⁠(⁠⁰⁠▿⁠⁰⁠)⁠◜⁠✧
(ノ◕ヮ◕)⊃━☆゚.*・。゚
.*☆☆*.. * ☆☆*.
╰(⸝⸝⸝´꒳`⸝⸝⸝)╯
♡(˃͈ દ ˂͈ ༶ )
(* (' ~ ') *)
°•°٩(◕‿◕。)°•°
ツ♡ (๑◕Δ◕๑)*✧。
(///*3*///)
(人*´∀`)。*゚+
(つ◕౪◕)つ━☆゚
✧(^ - ^)✧
(∩^o^)⊃━☆
(*-=_=-*)
(^◕.◕^)~
(。•̀ᴗ-)✧
(/-☆-\\)
Ő ௰ Ő ๑)
(~*_*~)
-(^*^)-
(-~-^)
●~*●~*
{• •}
˚ʚ♡ɞ˚
(*~*)
✪ ω ✪
~•^•~
(-*-)
(☆~☆)
(☆_*)
{•☆•}
^••^
*^*
☆●☆
---
✨

Sparkles Emoji look across different devices

Emojis may look different across platforms. Every web service, OS, or gadget manufacturer may create an Emojis design according to their corporate style and vision. Here you can check out how ✨ Sparkles Emoji looks like on most popular platforms: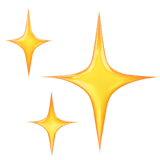 Apple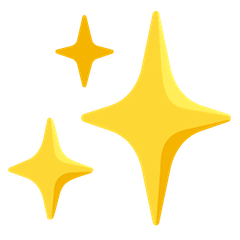 Google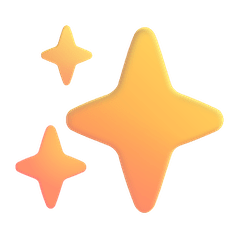 Microsoft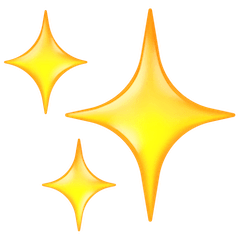 Facebook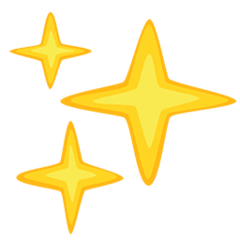 Messenger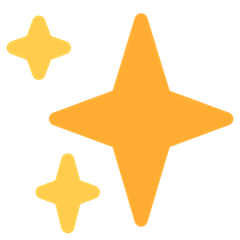 Twitter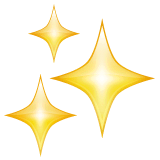 WhatsApp

Samsung

LG

HTC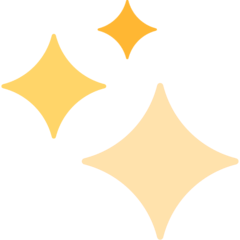 Mozilla

SoftBank
au by KDDI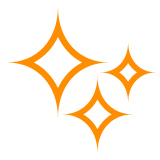 Docomo
Openmoji
Related Emojis
Related Themes & Holidays
General information about
✨

Sparkles Emoji
Read more
Translations and keywords for
✨

Sparkles Emoji