💕

Two Hearts Emoji
Meaning of
💕

Two Hearts Emoji

Two Hearts emoji together with the ❤️ Red Heart emoji is one of the most common symbols of ❤️ Love and romance. Of course, some people perceive this emoji as less banal and more intimate, and others think the opposite. Anyway, its primary meaning is the synonym of love — to anyone and anything from partners and parents to our planet in general.

And, of course, apart from this, it is sometimes used with a sarcastic meaning.
Snapchat meaning
On Snapchat, Two Pink Hearts emoji marks the user, who remains your mutual #1 best friend for at least two months at a run.
Copy & Paste this emoji:
Contents:
---
Examples of
💕

Two Hearts Emoji using

Popular phrases with 💕 Two Hearts Emoji to use in messengers and the web:

Tap / click to copy & paste

I 💕 you soo much

I adore you 💕

I like this very much 💕

You will never lose me 💕

Merci💕

Thank you 🙏💕
---
Combinations with
💕

Two Hearts Emoji

Combinations are just a bunch of emojis placed together, like this: 👸💕. You can use combos to make riddles or messages without words.

Tap / click to copy & paste

👩‍❤️‍👩👩‍❤️‍👩👩‍❤️‍👩👩‍❤️‍👩👩‍❤️‍👩💍💕

— Wedding

🌺💕🌹

— Her favorite flowers
---
Relevant kaomoji
Kaomoji are popular in Japan for sharing emotions and situations using Japanese grammar, punctuation, and characters. Like this: ( ˘ ³˘)♥! To impress your friends, you can use this creative style in messengers and the web.
Tap / click to copy & paste
( ˘ ³˘)♥
( ◜◒◝ )♡
( ๑ ❛ ڡ ❛ ๑ )
(◍•ᴗ•◍)♡ ✧*。
(♥→o←♥)
^•^*
♡〜ლ(๑癶ᴗ癶๑)ლ〜♡
♡(.◜ω◝.)♡
♡^▽^♡
♡ლ(-༗‿༗-)ლ♡
♥╣[-_-]╠♥
(◍•ᴗ•◍)❤️( ˘ ³˘)♥
ヾ( ̄◇ ̄)ノ〃
╰(*´︶`*)╯♡
---
💕

Two Hearts Emoji look across different devices

Emojis may look different across platforms. Every web service, OS, or gadget manufacturer may create an Emojis design according to their corporate style and vision. Here you can check out how 💕 Two Hearts Emoji looks like on most popular platforms: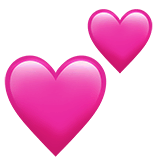 Apple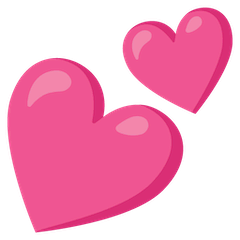 Google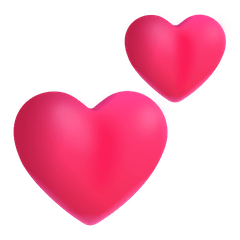 Microsoft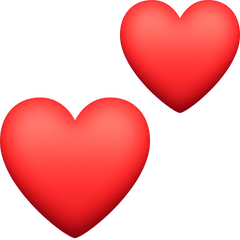 Facebook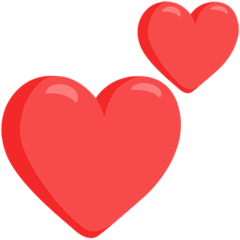 Messenger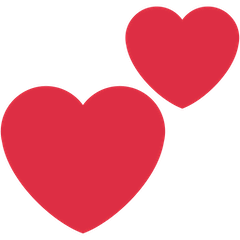 Twitter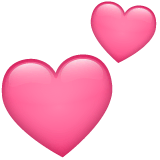 WhatsApp

Samsung

LG

HTC

Mozilla

SoftBank
au by KDDI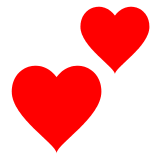 Docomo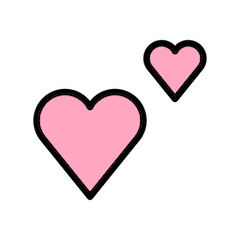 Openmoji
Related Emojis
❤️

Red Heart
🥰

Smiling Face With Hearts
💖

Sparkling Heart
🤎

Brown Heart
😍

Smiling Face With Heart-Eyes
🤗

Hugging Face
🎀

Ribbon
💝

Heart With Ribbon
💓

Beating Heart
💗

Growing Heart
💞

Revolving Hearts
💒

Wedding
💟

Heart Decoration
💘

Heart With Arrow
👩‍👧‍👧

Family: Woman, Girl, Girl
👨‍👧‍👧

Family: Man, Girl, Girl
👨‍👨‍👧

Family: Man, Man, Girl
👩‍👦‍👦

Family: Woman, Boy, Boy
👨‍👦‍👦

Family: Man, Boy, Boy
Related Themes & Holidays
General information about
💕

Two Hearts Emoji
Translations and keywords for
💕

Two Hearts Emoji