Meaning of 👩‍✈️ ️Woman Pilot Emoji
️Woman Pilot emoji represents a female character, whose 🗂 Profession is about navigating a plane. She wears a recognizable uniform with a signature pilot cap. This emoji, just like all the other profession-related emojis, may be used both in its direct and indirect meaning.

In the first case it would mean a female pilot — be that a woman's self-introduction or a part of a post or a message about some female pilot. And in the second case it may be a symbol of dream — after all, many people dream of this profession — or a symbol of a new height. +add

Copy & Paste this emoji:

This emoji has other gender variations: 👨‍✈️️ ️Man Pilot, 🧑‍✈️️ Pilot.

📖 Contents:
---
Examples of 👩‍✈️ ️Woman Pilot Emoji using
Popular phrases with 👩‍✈️ ️Woman Pilot Emoji to use in messengers and web:


Tap / click to copy & paste
I'm on my way to become a pilot 👩‍✈️️
I have my first flight as a pilot this week 👩‍✈️️

+add
---
Relevant kaomojis
Kaomojis are popular in Japan to share emotions and situations using Japanese grammar punctuations and characters. Like this: (⌐■_■)! You can use this creative style in messengers and web to impress your friends.


Tap / click to copy & paste
(⌐■_■)
(⌐▨_▨)
(▀̿̿Ĺ̯̿̿▀̿ ̿)
(७⌐■ل͟■)७
(つ▀¯▀)つ
(メ▼_▼)
༼⌐■ل͟■༽
༼⌐■ل͜■༽
┌(▀Ĺ̯ ▀-͠ )┐
┌༼▀̿ Ĺ̯▀̿༽┐

+Add
---
👩‍✈️ ️Woman Pilot Emoji Skin Tones Modifiers
Tap / click to copy
👩🏻‍✈️️

️Woman Pilot

light skin tone

👩🏼‍✈️️

️Woman Pilot

medium-light skin tone

👩🏽‍✈️️

️Woman Pilot

medium skin tone

👩🏾‍✈️️

️Woman Pilot

medium-dark skin tone

👩🏿‍✈️️

️Woman Pilot

dark skin tone
---
👩‍✈️ ️Woman Pilot Emoji look across different devices
Emojis may look different across platforms. Every web service, OS or gadgets' manufacturer may create Emojis design according to their own corporate style and vision. Here you can check out how 👩‍✈️ ️Woman Pilot Emoji looks like on most popular platforms:


👩‍✈️Your browser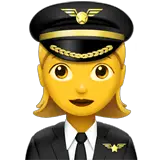 Apple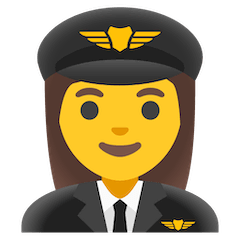 Google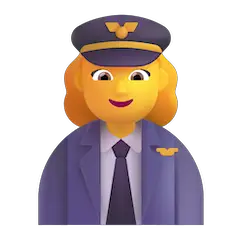 Microsoft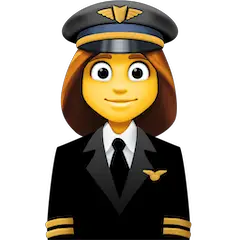 Facebook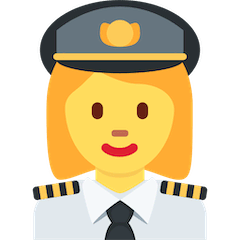 Twitter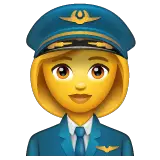 WhatsApp

Samsung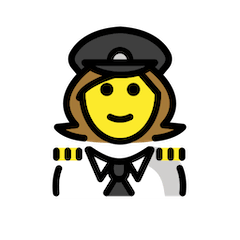 Openmoji
Related Emojis
Related Themes & Holidays
General information about 👩‍✈️ ️Woman Pilot Emoji
Full name
👩‍✈️ ️Woman Pilot
Category
🤷 People & Body
Subcategory
🕵️ Person Role
How to type shortcode

:woman_pilot:

Unicode (fully-qualified)
U+1F469 U+200D U+2708 U+FE0F
Made with
U+1F469 👩 Woman
U+200D Zero Width Joiner
U+2708 ✈️ Airplane
U+FE0F Variation Selector-16
Unicode (minimally-qualified)
👩‍✈ U+1F469 U+200D U+2708
Unicode version
Unicode 6.0 (2010)
Listed in
Emoji Version 4.0
Hex Code Points
1F469 200D 2708 FE0F
URL Escape Code
%F0%9F%91%A9%E2%80%8D%E2%9C%88%EF%B8%8F
Translations and keywords for 👩‍✈️ ️Woman Pilot Emoji