🎶

Musical Notes Emoji
Meaning of
🎶

Musical Notes Emoji

Musical Notes emoji is the picture of three little notes with the same meaning as 🎵 Musical Note. This emoji can generally discuss all music-related topics in direct or symbolic meaning. Do you want to dance? Do you want to sing? You are happy that your heart is full of music and joy — use Musical Notes emoji and add the explanation emoji after Dance, ❤️ Love, ☀️ Sun and etc.

Copy & Paste this emoji:
Contents:
---
Examples of
🎶

Musical Notes Emoji using

Popular phrases with 🎶 Musical Notes Emoji to use in messengers and the web:

Tap / click to copy & paste

She has a party at her house tonight Are we going? 🎶

Can you please help me to read the 🎶 of this song?

Yoo-hoo! 🪩💃🎶

🤪 I urgently need some rest 🪩🎶

This is the best party ever! 🪩🎶🎉

Let the party start! 🎉🪩🎶

🎶 Happy birthday to you, happy birthday to you 👧👦🎁🎉👨
---
Combinations with
🎶

Musical Notes Emoji

Combinations are just a bunch of emojis placed together, like this: 🎶🕯🎊🎈. You can use combos to make riddles or messages without words.

Tap / click to copy & paste

🎶🕯🎊🎈

— Birthday Decorations

🎶🎼📣

— Singing Happy Birthday

👫➕🍻🎶➕🔥👉👉👶❓

— Let's make a baby?

🪈🎶🕺

— To dance to someone's tune

🚶‍♂️🚶‍♀️💥🎵🎶

— Opening Ceremony

🎭🙍‍♂️🎼🎶

— Tha Phantom of the Opera

👂👨‍🦳👼🎵🎶

— Grandpa sings a lullaby

🇱🇧🎶🎵🎙️🏫

— Lebanon, Middle East

👌🏻💅🏻💄🎶

— Preening to music

▶️🪕🎶

— Hey! Play the banjo!

👨‍👩‍👧🎙️🎶

— Musical family evening

🌃🎶🚬😮‍💨

— Evening in the hookah bar

🇵🇰🌜⭐🎶

— Pakistan, South Asia

🤦‍♀️🪩🎶🥃🤢

— How to erase these memories..

🇯🇲🌳⛱️🎶

— Jamaica West Indies

🇬🇼⛱️🎶📽️

— Republic of Guinea-Bissau

🇸🇳🏛️🏟️🎙️🎶

— Senegal, West Africa

🇹🇹🏝️2️⃣🏝️🎶✍️

— Trinidad and Tobago

🧘‍♂️🙏🍃🎶

— Outdoor yoga class

🇨🇻🌋🎶⛱️

— Source of Creole Culture
---
Relevant kaomoji
Kaomoji are popular in Japan for sharing emotions and situations using Japanese grammar, punctuation, and characters. Like this: ♬♫♪◖(●◡●)◗♪♫♬! To impress your friends, you can use this creative style in messengers and the web.
Tap / click to copy & paste
♬♫♪◖(●◡●)◗♪♫♬
♬♫♪◖(● o ●)◗♪♫♬
(* ̄0 ̄)θ~♪
♪♬
ᕕ(⌐■_■)ᕗ ♪♬
(*⌒▽⌒*)θ~♪
(^O^☆♪
(´△`)♪
(ノ> ◇ <)ノ♪
┐(・。・┐) ♪
(´▽`)ノ♪
(^[]^)/♪
(^_^♪)
(ノ´▽`)ノ♪
♪( ´θ`)ノ
(⁀°⁀)♪♪♪♪👏🏻(⁀‿⁀)
___d + _ + b___
ˏˋ♡ˎˊ 🎧 ˗ˏˋ♡ˎˊ
|--(©_©) - - /
(*・ω・)ノ"┌iii┐♡
╰(⸝⸝⸝´꒳`⸝⸝⸝)╯
♬♫♪◖(●_●)◗♪♫♬
//(*~▽~)\\\\
~\\_(~_~)_/~
♪ \\(^ω^\\ )
♪♪♪ ヽ(ˇ∀ˇ )ゞ
d==(^_^)==b
d==(^u^)==b
\\(- o -)|
┌|o^▽^o|┘♪
d==(^u^)=b
v==(●●)==v
( ^-^)/(_)
m/(-_-)\\m
(⁠^⁠3⁠^⁠♪
ヾ(≧ ▽ ≦)ゝ
o(*°▽°*)o
(v(-u-)v)
[v(°•°)v)
d=(^_^)=b
(♡ω♡ ) ~♪
\\(^v^)/
(^◕.◕^)~
(-_-)/^-
~[^ ^]~♡
(´・ω・`)ノ
(^_-)^o^
(^-^)/🎵
φ(゜▽゜*)♪
┌(・。・)┘♪
l( ▔o▔)l
(^v^)_/
c(≧◇≦c)
(~•-•)~
└(^o^)┘
ll-_-ll
(~ ̄³ ̄)~
♪(^∇^*)
(~‾▿‾)~
m(-_-)m
(^_^🎵)
♪(•ө•)♡
(✧a✧)/
└|∵|┐♪
d•-•b
v●-●v
d-_-b
Ƹ;Ʒ
---
🎶

Musical Notes Emoji look across different devices

Emojis may look different across platforms. Every web service, OS, or gadget manufacturer may create an Emojis design according to their corporate style and vision. Here you can check out how 🎶 Musical Notes Emoji looks like on most popular platforms: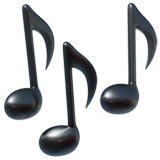 Apple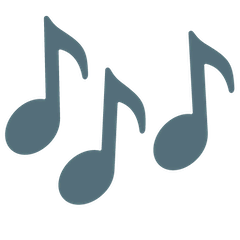 Google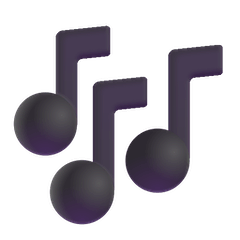 Microsoft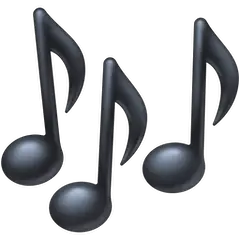 Facebook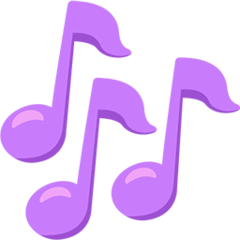 Messenger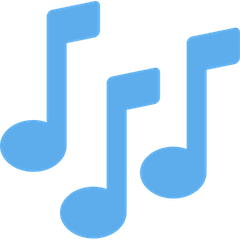 Twitter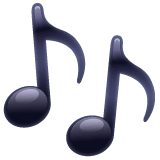 WhatsApp

Samsung

LG

HTC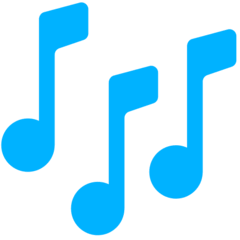 Mozilla

SoftBank
au by KDDI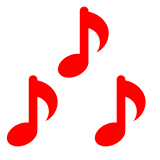 Docomo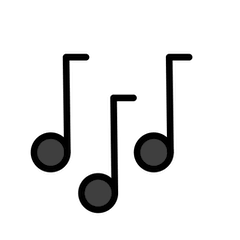 Openmoji

Icons8
Related Emojis
Related Themes & Holidays
General information about
🎶

Musical Notes Emoji
Full name

🎶

Musical Notes
Category
📙 Objects
Subcategory
📻 Music
How to type shortcode
Unicode (fully-qualified)

🎶

U+1F3B6
Unicode version
Unicode 6.0 (2010)
Listed in
Emoji Version 1.0
Translations and keywords for
🎶

Musical Notes Emoji