Meaning of *️⃣ Keycap: * Emoji
Keycap: emoji is the ⭐ Star 🔑 Key on the phone's keypad. This 🔑 Key is most often used as a menu selection option when talking to an automatic voice system. Send this emoji with the 📱 Mobile Phone emoji if you are going to have to sit around all day making phone calls.

This symbol is often confused with the asterisk symbol, but both signs vary as the asterisk has five ⭐ Star points instead of six. Asterisks are used to show annotations, or added ℹ️ Information, to content. Send this emoji with a 📝 Memo emoji to remind someone that they are going to need to add reference notes to their work before turning it in. +add

Copy & Paste this emoji:

📖 Contents:
---
Examples of *️⃣ Keycap: * Emoji using
Popular phrases with *️⃣ Keycap: * Emoji to use in messengers and web:


Tap / click to copy & paste
The *️⃣ key isn't working on my phone
The *️⃣ gets me to the menu faster right?

+add
---
Relevant kaomojis
Kaomojis are popular in Japan to share emotions and situations using Japanese grammar punctuations and characters. Like this: ***! You can use this creative style in messengers and web to impress your friends.


Tap / click to copy & paste
---
*️⃣ Keycap: * Emoji look across different devices
Emojis may look different across platforms. Every web service, OS or gadgets' manufacturer may create Emojis design according to their own corporate style and vision. Here you can check out how *️⃣ Keycap: * Emoji looks like on most popular platforms:


*️⃣Your browser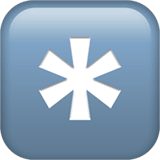 Apple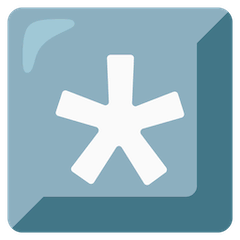 Google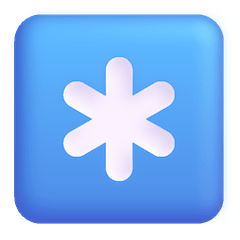 Microsoft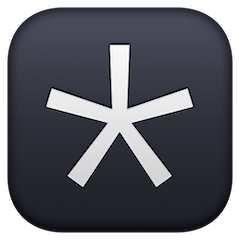 Facebook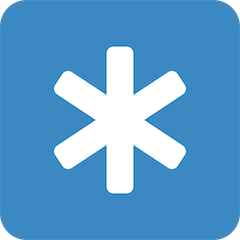 Twitter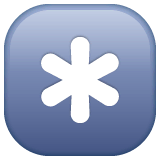 WhatsApp

Samsung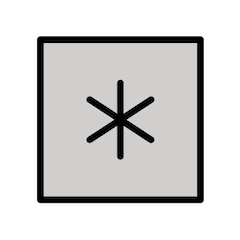 Openmoji
Related Emojis
General information about *️⃣ Keycap: * Emoji
Full name
*️⃣ Keycap: *
Category
💯 Symbols
Subcategory
#️⃣ Keycap
How to type shortcode

:asterisk:

Unicode (fully-qualified)
U+002A U+FE0F U+20E3
Made with
U+002A Asterisk
U+FE0F Variation Selector-16
U+20E3 Combining Enclosing Keycap
Unicode (unqualified)
*⃣ U+002A U+20E3
Unicode version
Unicode 3.0 (2002)
Listed in
Emoji Version 3.0
Hex Code Points
002A FE0F 20E3
URL Escape Code
%2A%EF%B8%8F%E2%83%A3
Translations and keywords for *️⃣ Keycap: * Emoji