Meaning of 🗡 Dagger Emoji
Dagger emoji is a weapon themed emoji. The Dagger is like a sword only smaller and is used in only one hand. It can sometimes be used instead of the 🔪 Kitchen Knife emoji since both are similar in shape to knives. The Dagger emoji can also be used to represent a sword as there is no singular sword emoji, just a ⚔️ Crossed Swords emoji. That can be either 😄 Fun, if you enjoy talking about fantasy stuff, or scary if you are using it as a threatening weapon. +add

Copy & Paste this emoji:

📖 Contents:
---
Examples of 🗡 Dagger Emoji using
Popular phrases with 🗡 Dagger Emoji to use in messengers and web:


Tap / click to copy & paste
Dungeons and Dragons tonight bring your best 🗡 or you won't survive
Would your rather a 🗡 or wand as a weapon?

+add
---
Combinations with 🗡 Dagger Emoji
Combinations are just a bunch of emojis placed together, like this: ​🍞​🍤​🧀​🗡​. You can use combos to make riddles or messaging without words.


Tap / click to copy & paste
​🍞​🍤​🧀​🗡​

 — Canape

​🥷​🗡​

 — Where's my katana…

​🐑​🐓​🕷​🗡​

 — Animal Anatomy

​🗡​😷​🐖​

 — Biology Experiments

​👧🏾​🗡​🍫​

 — Michonne

​✒️​⬆️️​🗡​

 — Pen Mightier Than the Sword

​🌾​🌿​☘️​🗡​

 — Plant Anatomy

+Add
---
Relevant kaomojis
Kaomojis are popular in Japan to share emotions and situations using Japanese grammar punctuations and characters. Like this: !( `皿´)o/)≡≡≡≡≡≡≡>十○! You can use this creative style in messengers and web to impress your friends.


Tap / click to copy & paste
!( `皿´)o/)≡≡≡≡≡≡≡>十○
(∩ ͡ ° ʖ ͡ °) ⊃-(===>
(ง ͠ ᵒ̌ Дᵒ̌)¤=[]:::::>
(ง ͠° ͟ل͜ ͡°)¤=[]:::::>
(メ▼へ▼)ノ0=|⊃―
¯\_( ͡° ͜ʖ ͡°)ง-]—-
╰༼.◕ヮ◕.༽つ¤=[]————
ヽ༼ಥل͟ಥ༽¤=[]:::::>
੧| ⊗ ▾ ⊗ |⊃¤=(————-
o()xxxx[{::::::::::::::::::>
o==}::::::::::::>
ᗜಠ o ಠ)¤=[]:::::>

+Add
---
🗡 Dagger Emoji look across different devices
Emojis may look different across platforms. Every web service, OS or gadgets' manufacturer may create Emojis design according to their own corporate style and vision. Here you can check out how 🗡 Dagger Emoji looks like on most popular platforms:


🗡Your browser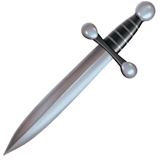 Apple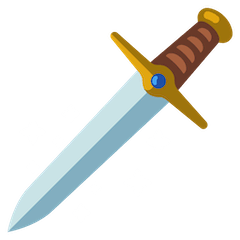 Google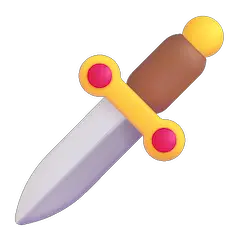 Microsoft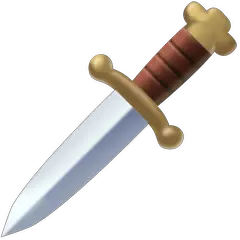 Facebook
Twitter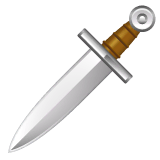 WhatsApp

Samsung

LG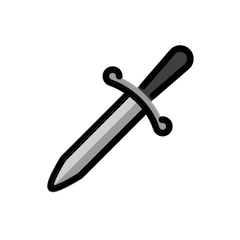 Openmoji
Related Emojis
Related Themes & Holidays
General information about 🗡 Dagger Emoji
| | |
| --- | --- |
| Full name | 🗡 Dagger |
| Category | 📮 Objects |
| Subcategory | 🔨 Tool |
| How to type shortcode | :dagger: |
| Unicode (fully-qualified) | U+1F5E1 |
| Unicode (unqualified) | 🗡 U+1F5E1 |
| Unicode version | Unicode 7.0 (2014) |
| Listed in | Emoji Version 1.0 |
| Hex Code Points | 1F5E1 |
| URL Escape Code | %F0%9F%97%A1 |
Translations and keywords for 🗡 Dagger Emoji