Meaning of 🛞 Wheel Emoji
The 🛞 "Wheel" emoji is approved in 2021 in Unicode 14.0 and depicts the classic wheel of a vehicle. On most platforms, it appears as a car wheel with a wide black tire around the rim of a silver disc.

The 🛞 "Wheel" emoji represents a vehicle, a tire and a circle. The emoji can also symbolize movement and evolution.

Use the emoji literally when you mention a wheel or vehicle. For example, when you tell a friend that your 🚙 Car had a flat tire and you had to switch to a 🚲 Bicycle. Or that you 👨‍🔧 changed the wheels on your car yourself. Supplement your messages with emoji from the 🚗 "Land Transport" subcategory.

Add the 🛞 "Wheel" emoji to well-established metaphorical expressions, replacing the word "wheel" and terms related to motion. This could be the phrases "Where is the 🌐 World going?", "I'm spinning like a squirrel in a wheel" and "How fast the wheel of fortune is spinning!".

Interesting Fact:
On Android, the "Wheel" emoji is depicted as a wooden, antique cart wheel.
+add
Copy & Paste this emoji:

📖 Contents:
---
Examples of 🛞 Wheel Emoji using
Popular phrases with 🛞 Wheel Emoji to use in messengers and web:


Tap / click to copy & paste
Where is 🛞 the world 🌎 going?
Spinning like a 🐿 squirrel in 🛞 a wheel
😡 Get out of here 🛞

+add
---
Combinations with 🛞 Wheel Emoji
Combinations are just a bunch of emojis placed together, like this: 🛞🍀. You can use combos to make riddles or messaging without words.


Tap / click to copy & paste
🛞🍀

 — Wheel of fortune

🚛🛞💥

 — Tire blowout

🚗👨‍🔧🛞

 — Wheel replacement

🛞🧀

 — Cheese head

🔥🛞🔥

 — Burn tires

🤸🛞

 — A person, making a wheel

+Add
---
🛞 Wheel Emoji look across different devices
Emojis may look different across platforms. Every web service, OS or gadgets' manufacturer may create Emojis design according to their own corporate style and vision. Here you can check out how 🛞 Wheel Emoji looks like on most popular platforms:


🛞Your browser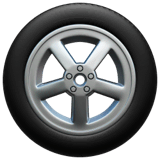 Apple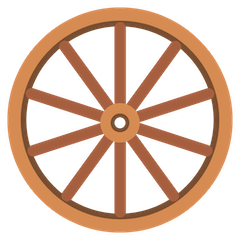 Google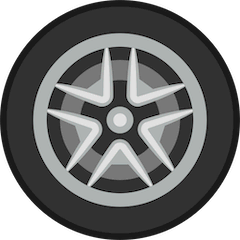 Twitter
Did you find what you were searching for? 🤔🔎



👍 Yes

      

👎 No



Thanks! ☀️
Related Emojis
Related Themes & Holidays
General information about 🛞 Wheel Emoji
Translations and keywords for 🛞 Wheel Emoji