🎤

Microphone Emoji
Meaning of
🎤

Microphone Emoji

Microphone emoji is a picture of a device that helps anybody sound louder than they can. It amplifies the voice of a person who uses it. Do you want to become a rock star? Do you want to show that you are ready to rock the stage or any event? Well, you need the Microphone emoji.

It may also be used in any sense relating to speaking and singing. Or you are just having a night out in the karaoke club with friends. Although in the case of singing, you can use 🎵 Musical Note emoji (or 🎶 Musical Notes emoji).

A close symbol to this is also 🎙️ Studio Microphone.

Copy & Paste this emoji:
Contents:
---
Examples of
🎤

Microphone Emoji using

Popular phrases with 🎤 Microphone Emoji to use in messengers and the web:

Tap / click to copy & paste

Hey, let's go out and sing some cool songs in a bar? 🎤

The show was amazing today: she rocked the 🎤

Singin 🎤
---
Combinations with
🎤

Microphone Emoji

Combinations are just a bunch of emojis placed together, like this: 👨‍🎤👩‍🎤🤹‍♂️✨. You can use combos to make riddles or messages without words.

Tap / click to copy & paste

👨‍🎤👩‍🎤🤹‍♂️✨

— Street Parties

🧑💻🔊🎤

— Loud, painful echo/feedback

😮📣🎤

— Making Announcements

🧑‍✈️🎤

— Fasten your seatbelts

🧑‍🎤🏆

— Will he take the award…
---
Relevant kaomoji
Kaomoji are popular in Japan for sharing emotions and situations using Japanese grammar, punctuation, and characters. Like this: ♬♫♪◖(●◡●)◗♪♫♬! To impress your friends, you can use this creative style in messengers and the web.
Tap / click to copy & paste
♬♫♪◖(●◡●)◗♪♫♬
♬♫♪◖(● o ●)◗♪♫♬
└[∵┌]└[ ∵ ]┘[┐∵]┘
(┌|o^▽^o|┘)♪
(ノ≧∀≦)ノ
(ノ^o^)ノ
(ノ ̄ω ̄)ノ
└( ・ェ・ )┐
(ノ°Д°)ノ
(ノ°ο°)ノ
(ノ゚▽゚)ノ
♪♪)>ш=(^。^ )
(⁀°⁀)♪♪♪♪👏🏻(⁀‿⁀)
♬♫♪◖(●_●)◗♪♫♬
~\\_(~_~)_/~
♪ \\(^ω^\\ )
♪♪♪ ヽ(ˇ∀ˇ )ゞ
┌|o^▽^o|┘♪
d==(^u^)=b
(⁠^⁠3⁠^⁠♪
(v(-u-)v)
[v(°•°)v)
\\(^ヮ^)/
\\(^v^)/
(-_-)/^-
~[^ ^]~♡
(^_-)^o^
(^-^)/🎵
φ(゜▽゜*)♪
┌(・。・)┘♪
l( ▔o▔)l
(^v^)_/
(~•-•)~
ll-_-ll
♪(^∇^*)
m(-_-)m
d•-•b
v●-●v
d-_-b
---
🎤

Microphone Emoji look across different devices

Emojis may look different across platforms. Every web service, OS, or gadget manufacturer may create an Emojis design according to their corporate style and vision. Here you can check out how 🎤 Microphone Emoji looks like on most popular platforms: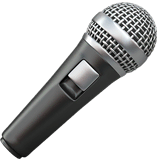 Apple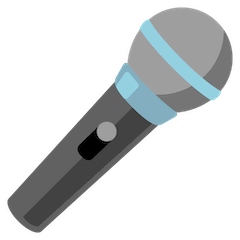 Google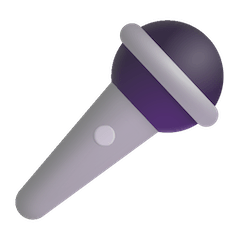 Microsoft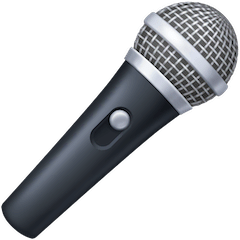 Facebook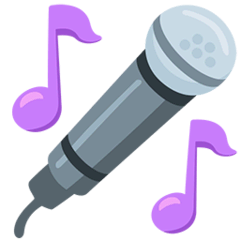 Messenger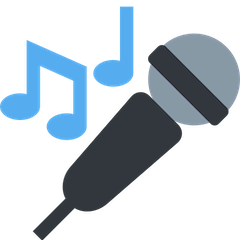 Twitter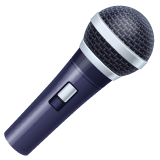 WhatsApp

Samsung

LG

HTC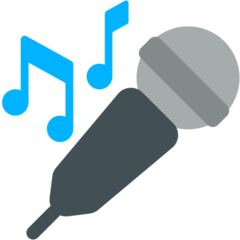 Mozilla

SoftBank
au by KDDI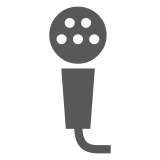 Docomo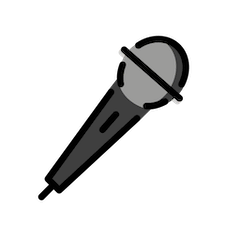 Openmoji
Related Emojis
Related Themes & Holidays
General information about
🎤

Microphone Emoji
Full name

🎤

Microphone
Category
📙 Objects
Subcategory
📻 Music
How to type shortcode
Unicode (fully-qualified)

🎤

U+1F3A4
Unicode version
Unicode 6.0 (2010)
Listed in
Emoji Version 1.0
Translations and keywords for
🎤

Microphone Emoji