Meaning of ❣️ Heart Exclamation Emoji
Heavy Heart Exclamation emoji. What does it remind you, hm? Maybe exclamation point? Of corse! Because it is one! An exclamation point with a heart. Use it in all romantic messages where you want to show you excitement about the upcoming trip to Vegas! Don't forget to add some 🎰 Slot Machine emoji, Game Dice and 🃏 Joker.

To the Niagara waterfall, to Hawaii and to all the other places where your imagination can take you! We hope you know how to dream! Use this emoji when you absolutely agree with somebody on some issue. It's like saying: "I really ❤️️ Love you idea! Great!" Or use it many times after the ❤️️️ Red Heart or 💖 Sparkling Heart when you want to say how much you love a person. It's for those who love something.

No matter where they are: 🤓 College, 🎉🥂 Party, doing Sport, 💏 Sex, 🍳 Cooking and etc. You love it and are excited about it— use it! +add

Copy & Paste this emoji:

📖 Contents:
---
Examples of ❣️ Heart Exclamation Emoji using
Popular phrases with ❣️ Heart Exclamation Emoji to use in messengers and web:


Tap / click to copy & paste
I absolutely love the way she sings ❣️❣️ Her voice is like heaven!
I managed to get the first copy of Harry Potter book ❣️❣️
Jenna! We are getting married with Peter ❣️❣️❣️❣️ I am so happy!

+add
---
Relevant kaomojis
Kaomojis are popular in Japan to share emotions and situations using Japanese grammar punctuations and characters. Like this: ( ˘ω˘ )☞♡☜( ˘ω˘ )! You can use this creative style in messengers and web to impress your friends.


Tap / click to copy & paste
( ˘ω˘ )☞♡☜( ˘ω˘ )
( ◜◒◝ )♡
( ๑ ❛ ڡ ❛ ๑ )
(◍•ᴗ•◍)♡ ✧*。
(♥→o←♥)
^•^*
♡〜ლ(๑癶ᴗ癶๑)ლ〜♡
♡(.◜ω◝.)♡
♡^▽^♡
♡ლ(-༗‿༗-)ლ♡
♥
♥╣[-_-]╠♥
(◍•ᴗ•◍)❤️( ˘ ³˘)♥
ヾ( ̄◇ ̄)ノ〃
╰(*´︶`*)╯♡

+Add
---
❣️ Heart Exclamation Emoji look across different devices
Emojis may look different across platforms. Every web service, OS or gadgets' manufacturer may create Emojis design according to their own corporate style and vision. Here you can check out how ❣️ Heart Exclamation Emoji looks like on most popular platforms:


❣️Your browser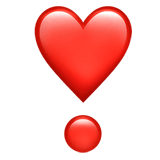 Apple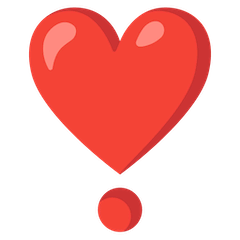 Google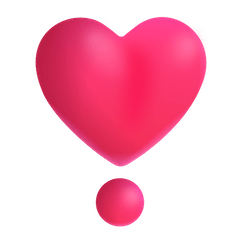 Microsoft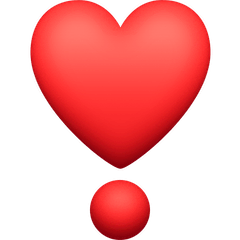 Facebook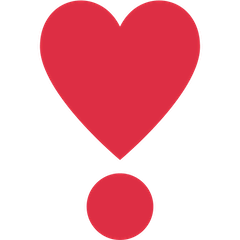 Twitter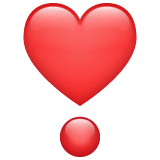 WhatsApp

Samsung

LG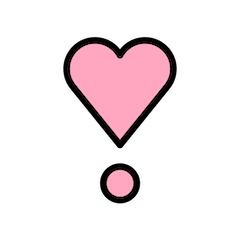 Openmoji
Related Emojis
Related Themes & Holidays
General information about ❣️ Heart Exclamation Emoji
| | |
| --- | --- |
| Full name | ❣️ Heart Exclamation |
| Category | 😂 Smileys & Emotion |
| Subcategory | ❤️️️ Emotion |
| How to type shortcode | :heart_exclamation: |
| Unicode (fully-qualified) | U+2763 |
| Unicode (unqualified) | ❣ U+2763 |
| Unicode version | Unicode 1.1 (1993) |
| Listed in | Emoji Version 1.0 |
| Hex Code Points | 2763 |
| URL Escape Code | %E2%9D%A3%EF%B8%8F |
Translations and keywords for ❣️ Heart Exclamation Emoji