Meaning of 🦴 Bone Emoji
Bone emoji is an image of femur Bone. When you look at a Bone, you probably start thinking about dogs. Dogs do ❤️️ Love their bones, and you can use this emoji with a 🐕 Dog emoji to show that you have given your fur 👶 Baby their favorite treat.

The dog and Bone combo can also be used to represent throwing a dog a Bone, which means that you are asking for some praise, even a little one, for something that you did. If you break a Bone in your body and need medical attention, you will most likely send this emoji as well with a 😷 Face With Medical Mask emoji. Hopefully once you are out of pain. +add

Copy & Paste this emoji:

📖 Contents:
---
Examples of 🦴 Bone Emoji using
Popular phrases with 🦴 Bone Emoji to use in messengers and web:


Tap / click to copy & paste
I bought some 🦴 to make a broth
I stupidly broke my 🦴 when I fell out the tree
The dog grabbed the 🦴 out of my hand

+add
---
Combinations with 🦴 Bone Emoji
Combinations are just a bunch of emojis placed together, like this: ​🦴​💀​. You can use combos to make riddles or messaging without words.


Tap / click to copy & paste
​🦴​💀​

 — Ossified corpse

+Add
---
Relevant kaomojis
Kaomojis are popular in Japan to share emotions and situations using Japanese grammar punctuations and characters. Like this: (。_+)\! You can use this creative style in messengers and web to impress your friends.


Tap / click to copy & paste
(。_+)\
((((*。_。)_
(xLx)ヾ
「(=>o≦=)ノ
/(*ι*)ヾ
☆ ̄(>。☆)
꒰⁎×﹏×⁎꒱՞༘
ヘ(。□°)ヘ

+Add
---
🦴 Bone Emoji look across different devices
Emojis may look different across platforms. Every web service, OS or gadgets' manufacturer may create Emojis design according to their own corporate style and vision. Here you can check out how 🦴 Bone Emoji looks like on most popular platforms:


🦴Your browser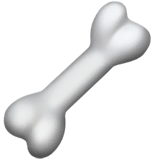 Apple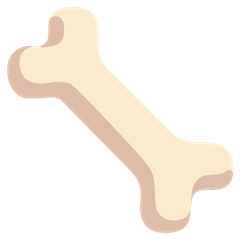 Google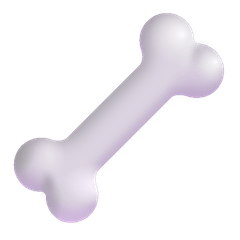 Microsoft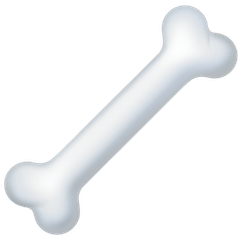 Facebook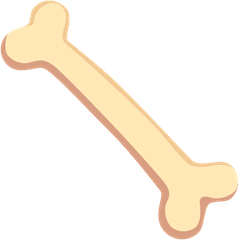 Twitter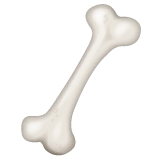 WhatsApp

Samsung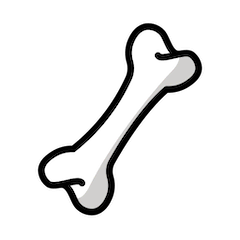 Openmoji
Did you find what you were searching for? 🤔🔎



👍 Yes

      

👎 No



Thanks! ☀️
Related Emojis
Related Themes & Holidays
General information about 🦴 Bone Emoji
| | |
| --- | --- |
| Full name | 🦴 Bone |
| Category | 🤷 People & Body |
| Subcategory | 👄 Body Parts |
| How to type shortcode | :bone: |
| Unicode (fully-qualified) | U+1F9B4 |
| Unicode version | Unicode 11.0 (2018) |
| Listed in | Emoji Version 11.0 |
| Hex Code Points | 1F9B4 |
| URL Escape Code | %F0%9F%A6%B4 |
Translations and keywords for 🦴 Bone Emoji