Meaning of ⚰️ Coffin Emoji
Coffin emoji — well, it's obvious what is a Coffin. It can be used as a direct sign of a thing where you put the body when somebody is dead or the process of a funeral in general. In indirect meaning in can be used in these types of context: do you want to show that you are dead after a hard work? Do you want to show that you are the Dracula or a 🧛 Vampire in general — use Coffin emoji along with the Cross, Vampire. +add

Copy & Paste this emoji:

📖 Contents:
---
Examples of ⚰️ Coffin Emoji using
Popular phrases with ⚰️ Coffin Emoji to use in messengers and web:


Tap / click to copy & paste
Oh, boy…I am dead after this hardworking day! ⚰️
He was at the funeral ⚰️

+add
---
Combinations with ⚰️ Coffin Emoji
Combinations are just a bunch of emojis placed together, like this: ​👳‍💀​♀️​⚰️​. You can use combos to make riddles or messaging without words.


Tap / click to copy & paste
​👳‍💀​♀️​⚰️​

 — Mummy

​😭​☠️​⚰️​🪦​

 — Funeral

​👨‍✈️️​⚰️​💀​

 — Dying in the Line of Duty

​😑​⚰️​🛠​

 — Remembering Killed Workers

+Add
---
⚰️ Coffin Emoji look across different devices
Emojis may look different across platforms. Every web service, OS or gadgets' manufacturer may create Emojis design according to their own corporate style and vision. Here you can check out how ⚰️ Coffin Emoji looks like on most popular platforms:


⚰️Your browser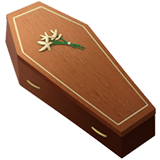 Apple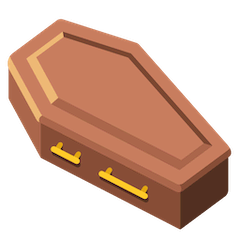 Google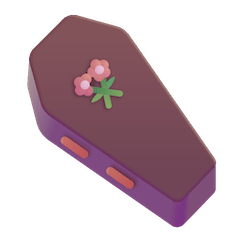 Microsoft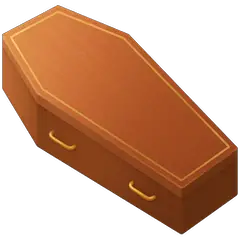 Facebook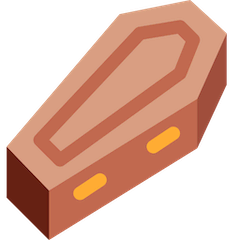 Twitter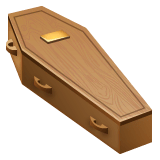 WhatsApp

Samsung

LG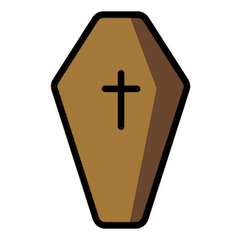 Openmoji
Related Emojis
Related Themes & Holidays
General information about ⚰️ Coffin Emoji
| | |
| --- | --- |
| Full name | ⚰️ Coffin |
| Category | 📮 Objects |
| Subcategory | 🗿 Other Object |
| How to type shortcode | :coffin: |
| Unicode (fully-qualified) | U+26B0 |
| Unicode (unqualified) | ⚰ U+26B0 |
| Unicode version | Unicode 4.1 (2005) |
| Listed in | Emoji Version 1.0 |
| Hex Code Points | 26B0 |
| URL Escape Code | %E2%9A%B0%EF%B8%8F |
Translations and keywords for ⚰️ Coffin Emoji