➡️

Right Arrow Emoji
Meaning of
➡️

Right Arrow Emoji

The Right Arrow emoji is an arrow pointing toward the right. Usually, when you see this sign on the road it is giving you a direction. This arrow is telling you that you can only go right on the road.

If you get this emoji with a 🛣 Motorway emoji your friend is ⚠️ Warning you about a one-way road up ahead. But why are you looking at your phone while driving that's dangerous! Plan so you won't have to use this emoji while driving.

Copy & Paste this emoji:
Contents:
---
Examples of
➡️

Right Arrow Emoji using

Popular phrases with ➡️ Right Arrow Emoji to use in messengers and the web:

Tap / click to copy & paste

Gremlins 🐹➡️👹

➡️🛐⛪ We r going to easter sunday worship. Would you like to join us?

Make a ➡️ at the next traffic light

This is the ➡️ brand of toothpaste for the baby right?
---
Combinations with
➡️

Right Arrow Emoji

Combinations are just a bunch of emojis placed together, like this: 🍆➡️😋. You can use combos to make riddles or messages without words.

Tap / click to copy & paste

🌳➡️🍂

— Changing of the Leaves

☀️🌡➡️🌨❄️

— From Summer to winter

🚶‍♂️➡️🕍

— Going to Synagogue

🥂➡️😋

— Need a Clinking Glasses

☕➡️😋

— Need a Hot Beverage

🍫➡️😋

— Need a Chocolate Bar

🍻➡️😋

— Need a Clinking Beer Mugs

🎂➡️😋

— Need a Birthday Cake

🍾➡️😋

— Need a bottle of alcohol

🍔➡️😋

— Need a Cheeseburger

🥤➡️😋

— Need a Cup With Straw

➡️📀💻▶️

— Insert a disk and run

🔫➡️🍀👨🏻

— Kill The Irishman

🍸➡️😋

— Need a Cocktail Glass

🍹➡️😋

— Need a Tropical Drink

🌇➡️🌃👄

— Day To Night Makeup

🥖➡️😋

— Need a Baguette Bread

🧀➡️😋

— Need a Cheese Wedge

👊➡️⚡️

— Struck By Lightning

👩🏻➡️🚪

— The Girl Next Door

🔄📏➡️🌍

— To measure a planet

💦➡️🐘🐘

— Water For Elephants

📝✉️➡️🍼

— Message In A Bottle

🥣➡️😋

— Need a Bowl With Spoon

🍟➡️😋

— Need a French Fries

🥛➡️😋

— Need a Glass of Milk

🥙➡️😋

— Need a Stuffed Flatbread

🎬👴➡️👶➡️💀

— Benjamin button

🚗 1️⃣ 2️⃣ ➡️🚗 💨

— Bathurst 12-Hour Race

💃🏻➡️👮

— The Love Priestess is caught

🤫➡️👀

— Shut up! Or they'll notice.

👦🏻👧🏻➡️👰

— Father Of The Bride

🩳➡️⛱️

— Get ready for the beach

✉️✉️➡️👸

— Letters To Juliet

🥠➡️😋

— Need a Fortune Cookie

🍤➡️😋

— Need a Fried Shrimp

🍖➡️😋

— Need a Meat on Bone

🥘➡️😋

— Need a mini pan with food

🍘➡️😋

— Need a Rice Cracker

🍦➡️😋

— Need a Soft Ice Cream

🍜➡️😋

— Need a Steaming Bowl

🍠➡️😋

— Need a Sweet Potato

🥃➡️😋

— Need a Tumbler Glass
---
➡️

Right Arrow Emoji look across different devices

Emojis may look different across platforms. Every web service, OS, or gadget manufacturer may create an Emojis design according to their corporate style and vision. Here you can check out how ➡️ Right Arrow Emoji looks like on most popular platforms: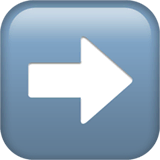 Apple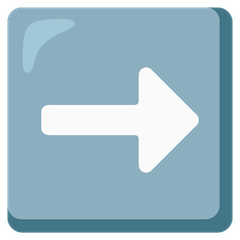 Google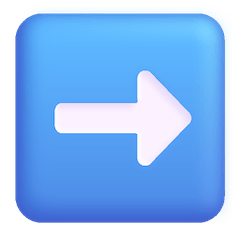 Microsoft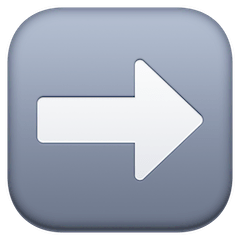 Facebook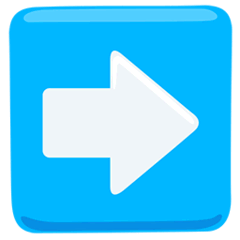 Messenger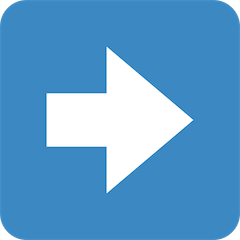 Twitter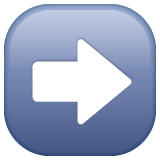 WhatsApp

Samsung

LG

HTC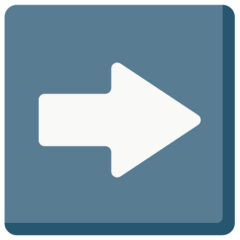 Mozilla

SoftBank
au by KDDI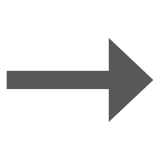 Docomo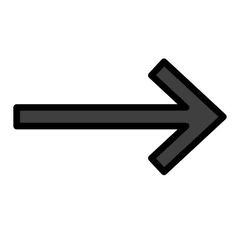 Openmoji

Icons8
Related Emojis
Related Themes & Holidays
General information about
➡️

Right Arrow Emoji
Full name

➡️

Right Arrow
Category
💯 Symbols
Subcategory
🔄 Arrow
How to type shortcode
Unicode (fully-qualified)

➡️

U+27A1 U+FE0F
Unicode (unqualified)
➡ U+27A1
Made with
U+27A1 ➡ Right Arrow
U+FE0F Variation Selector-16
Unicode version
Unicode 1.1 (1993)
Listed in
Emoji Version 1.0
Translations and keywords for
➡️

Right Arrow Emoji