⤴️

Right Arrow Curving Up Emoji
Meaning of
⤴️

Right Arrow Curving Up Emoji

The Right Arrow Curving Up emoji is an arrow curving up. When driving you will most likely see this sign to warn you that your path will take a slight curve up. If you get this emoji with a 🛣 Motorway emoji before driving you are being warned about the change in the road along the way.

You can also use this to show an upward climb in something. This is a 😄 Fun way to show you are having a positive day. Pair it with the 📈 Chart Increasing emoji to show that things can only get better.

Copy & Paste this emoji:
Contents:
---
Examples of
⤴️

Right Arrow Curving Up Emoji using

Popular phrases with ⤴️ Right Arrow Curving Up Emoji to use in messengers and the web:

Tap / click to copy & paste

The road makes ⤴️ here so look out

Things are going ⤴️ and it feels good!
---
Combinations with
⤴️

Right Arrow Curving Up Emoji

Combinations are just a bunch of emojis placed together, like this: ⤴️🚧. You can use combos to make riddles or messages without words.

Tap / click to copy & paste

⤴️🚧

— Ahead of renovations
---
⤴️

Right Arrow Curving Up Emoji look across different devices

Emojis may look different across platforms. Every web service, OS, or gadget manufacturer may create an Emojis design according to their corporate style and vision. Here you can check out how ⤴️ Right Arrow Curving Up Emoji looks like on most popular platforms: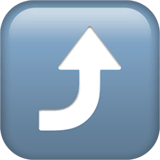 Apple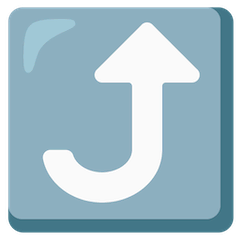 Google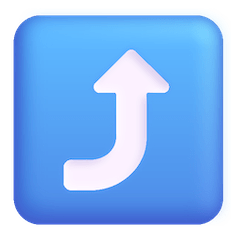 Microsoft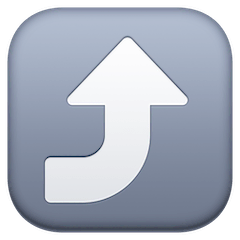 Facebook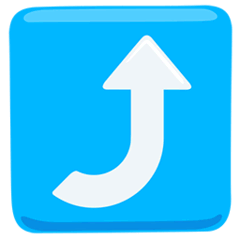 Messenger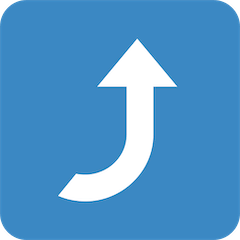 Twitter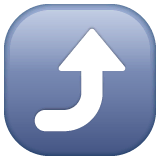 WhatsApp

Samsung

LG

HTC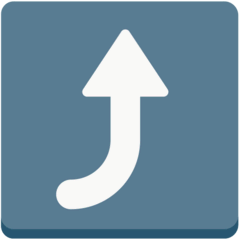 Mozilla

SoftBank
au by KDDI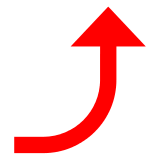 Docomo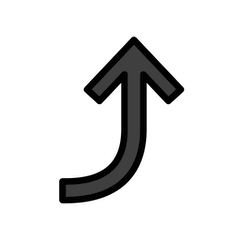 Openmoji

Icons8
Related Emojis
Related Themes & Holidays
General information about
⤴️

Right Arrow Curving Up Emoji
Full name

⤴️

Right Arrow Curving Up
Category
💯 Symbols
Subcategory
🔄 Arrow
How to type shortcode
Unicode (fully-qualified)

⤴️

U+2934 U+FE0F
Unicode (unqualified)
⤴ U+2934
Made with
U+2934 ⤴ Right Arrow Curving Up
U+FE0F Variation Selector-16
Unicode version
Unicode 3.2 (2002)
Listed in
Emoji Version 1.0
Translations and keywords for
⤴️

Right Arrow Curving Up Emoji