Meaning of 🧌 Troll Emoji
The 🧌 "Troll" emoji, released in 2021 Unicode 14.0, depicts a green-skinned troll. The emoji represents a fictional character, a monster and a beast. Sometimes it is also associated with the terms "ancient", "primordial" and "prehistoric".

🧌 "Troll" can be used literally to describe a fantastic creature or to indicate something supernatural. It is also used to refer to the act of trolling on the Internet.

Include this emoji when discussing not only movies and games about trolls, but any mythical characters. Whether they are 😡 Angry, sullen, wild and frightening or harmless and funny. In some contexts also use 🪄 "Magic Wand" emoji and smiley faces of different fairy tale characters. In particular, 🧚 "Fairy", 🧙 "Mage" or 👹 "Orge". Also the emoji can serve as a symbol of 🎃 Halloween and will be appropriate when discussing costumes for the party.

Use the emoji when comparing yourself or another person to a fairy troll. For example, when ironically noticing that you look just as scruffy, self-critically pointing out your big 👃 Nose, or recalling a 🗨 Conversation with an unfriendly neighbor.

Alternatively, use the emoji 🧌 "Troll" when communicating on social media if you notice someone who is manipulating, bullying, stirring up conflict or joking unkindly. Depending on the situation, send the emoji as a standalone character or in combination with 🤑 "Money-Mouth Face" emoji, which will hint at the troll's earnings. +add

Copy & Paste this emoji:

📖 Contents:
---
Examples of 🧌 Troll Emoji using
Popular phrases with 🧌 Troll Emoji to use in messengers and web:


Tap / click to copy & paste
😂 You've been trolled 🧌
You look just as troll 🧌
Don't act like a savage 🧌
Will I be able to lose some weight? 🤔🧌
There are nothing but 🤡 and 🧌 around

+add
---
Combinations with 🧌 Troll Emoji
Combinations are just a bunch of emojis placed together, like this: 😂🧌😡. You can use combos to make riddles or messaging without words.


Tap / click to copy & paste
😂🧌😡

 — Bullying

🧌🫏👸

 — Shrek

🏭🧌

 — Troll factory

🤬🧌🤑

 — Troll's earnings

🎃🧌🧟☠️

 — Halloween

🎮🧌

 — Game character

🧌🪄🤴

 — Transformation

💯🧌

 — Trolling

+Add
---
🧌 Troll Emoji look across different devices
Emojis may look different across platforms. Every web service, OS or gadgets' manufacturer may create Emojis design according to their own corporate style and vision. Here you can check out how 🧌 Troll Emoji looks like on most popular platforms:


🧌Your browser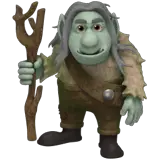 Apple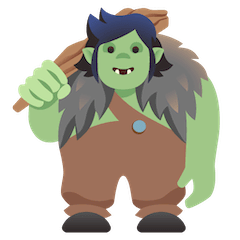 Google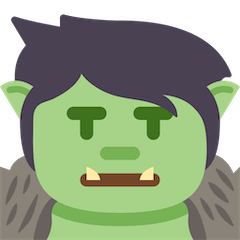 Twitter
Related Emojis
Related Themes & Holidays
General information about 🧌 Troll Emoji
Translations and keywords for 🧌 Troll Emoji