Meaning of 🧜 Merperson Emoji
Merperson emoji is an image of half human half 🐟 Fish mythical creature. Merpersons live in the ocean and are connected to the sea life and 💦 Water. You would more often use this emoji when talking about the water and anything that lives in it rather than saying you are an actual 🧜‍♀️ Mermaid.

If you are planning to go to the sea you can send this emoji with the 🌊 Water Wave emoji. You can even use this emoji to show that you want to go scuba diving by sending it along with a Fish emoji. +add

Copy & Paste this emoji:

📖 Contents:
---
Examples of 🧜 Merperson Emoji using
Popular phrases with 🧜 Merperson Emoji to use in messengers and web:


Tap / click to copy & paste
Is Poseidon a 🧜?
🧜 live in Atlantica right?

+add
---
Relevant kaomojis
Kaomojis are popular in Japan to share emotions and situations using Japanese grammar punctuations and characters. Like this: _へ__(‾◡◝ )>! You can use this creative style in messengers and web to impress your friends.


Tap / click to copy & paste
_へ__(‾◡◝ )>
( ^∇^)
( ◞・౪・)
(‐^▽^‐)
("⌒∇⌒")
(*´▽`*)
(*^▽^*)
(*~▽~)
(◉ ͜ʖ◉))ノ彡
(ノ^∇^)
⊂((・▽・))⊃

+Add
---
🧜 Merperson Emoji Skin Tones Modifiers
Tap / click to copy
🧜🏻

Merperson

light skin tone

🧜🏼

Merperson

medium-light skin tone

🧜🏽

Merperson

medium skin tone

🧜🏾

Merperson

medium-dark skin tone

🧜🏿
---
🧜 Merperson Emoji look across different devices
Emojis may look different across platforms. Every web service, OS or gadgets' manufacturer may create Emojis design according to their own corporate style and vision. Here you can check out how 🧜 Merperson Emoji looks like on most popular platforms:


🧜Your browser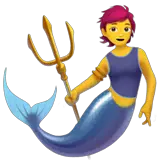 Apple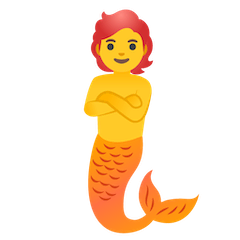 Google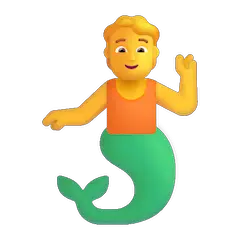 Microsoft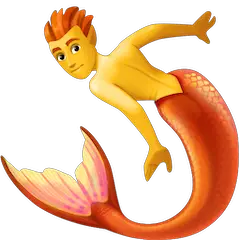 Facebook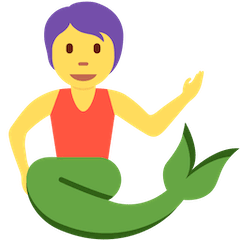 Twitter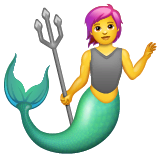 WhatsApp

Samsung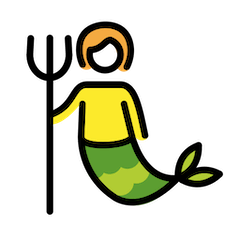 Openmoji
Did you find what you were searching for? 🤔🔎



👍 Yes

      

👎 No



Thanks! ☀️
Related Emojis
Related Themes & Holidays
General information about 🧜 Merperson Emoji
| | |
| --- | --- |
| Full name | 🧜 Merperson |
| Category | 🤷 People & Body |
| Subcategory | 👼 Person Fantasy |
| How to type shortcode | :merperson: |
| Unicode (fully-qualified) | U+1F9DC |
| Unicode version | Unicode 10.0 (2017) |
| Listed in | Emoji Version 5.0 |
| Hex Code Points | 1F9DC |
| URL Escape Code | %F0%9F%A7%9C |
Translations and keywords for 🧜 Merperson Emoji