Meaning of 🇷🇸 Flag: Serbia Emoji
A state located on the Balkan Peninsula. In the north of the country, there are mostly plains, while in the south, there are ⛰ Mountain ranges with ⛷ Ski resorts.

Belgrade, the capital of Serbia, is known for its buildings erected during communist rule, as well as the Belgrade fortress located in Kalemegdan Park.

Serbs love ☕ Coffee very much, to such an extent that almost every family has its own recipe for making ground coffee.

Nikola Tesla, an inventor in the field of electronics and radio engineering, is considered the national hero of Serbia.

There is no doubt that the Serbian flag will be very popular on the net not only among residents but also among other users, as Serbia is a very interesting country for discussions.


Interesting fact:
🎾 Tennis and 🏀 Basketball are national sports in Serbia. But Serbs are just fans of ⚽ Football, they are considered the most rabid and 🔥 Passionate fans across Europe.

Did you know that red 🍷 Wine in Serbia is usually called black? The local cuisine is also famous for its dishes from 🥩 Meat, such as: pljeskavica, sausages and cutlets. The most famous Serbian Čevapcici sausages are made from minced 🐄 Beef or 🐖 Pork, with 🧅 Onion and seasonings. +add

Copy & Paste this emoji:

📖 Contents:
---
Examples of 🇷🇸 Flag: Serbia Emoji using
Popular phrases with 🇷🇸 Flag: Serbia Emoji to use in messengers and web:


Tap / click to copy & paste
I am proud to live here 🇷🇸
Great place to visit! 🇷🇸
I'm going to 🇷🇸 Serbia!
I❤️️🇷🇸
My 🏠 is 🇷🇸
🇷🇸 in my ❤️️
Здраво!🇷🇸

+add
---
Combinations with 🇷🇸 Flag: Serbia Emoji
Combinations are just a bunch of emojis placed together, like this: ​🇷🇸​⛷️​🏔️​🛣️​. You can use combos to make riddles or messaging without words.


Tap / click to copy & paste
​🇷🇸​⛷️​🏔️​🛣️​

 — Serbia, Balkan Peninsula

+Add
---
Relevant kaomojis
Kaomojis are popular in Japan to share emotions and situations using Japanese grammar punctuations and characters. Like this: ╭(♡・ㅂ・)و/🇷🇸! You can use this creative style in messengers and web to impress your friends.


Tap / click to copy & paste
╭(♡・ㅂ・)و/🇷🇸
I❤️️🇷🇸
My 🏠 is 🇷🇸

+Add
---
🇷🇸 Flag: Serbia Emoji look across different devices
Emojis may look different across platforms. Every web service, OS or gadgets' manufacturer may create Emojis design according to their own corporate style and vision. Here you can check out how 🇷🇸 Flag: Serbia Emoji looks like on most popular platforms:


🇷🇸Your browser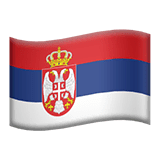 Apple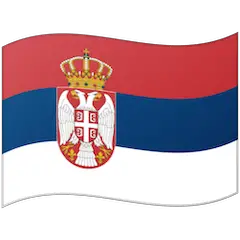 Google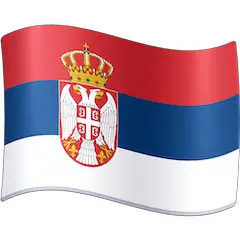 Facebook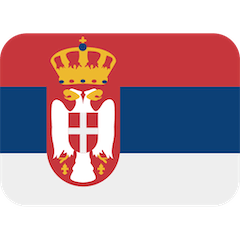 Twitter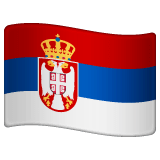 WhatsApp

Samsung

LG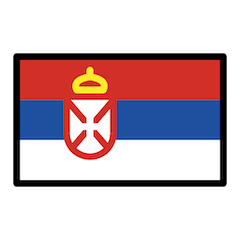 Openmoji
Related Emojis
General information about 🇷🇸 Flag: Serbia Emoji
Full name
🇷🇸 Flag: Serbia
Category
🇺🇸 Flags
Subcategory
🇺🇸 Country Flag
How to type shortcode

:flag_rs:

Unicode (fully-qualified)
U+1F1F7 U+1F1F8
Made with
U+1F1F7 Regional Indicator Symbol Letter R
U+1F1F8 Regional Indicator Symbol Letter S
Unicode version
Unicode 6.0 (2010)
Listed in
Emoji Version 1.0
Hex Code Points
1F1F7 1F1F8
URL Escape Code
%F0%9F%87%B7%F0%9F%87%B8
Translations and keywords for 🇷🇸 Flag: Serbia Emoji