Meaning of 👨‍❤️‍💋‍👨 Kiss: Man, Man Emoji
Kiss: Man, Man emoji is the picture of two white male characters with closed 👀 Eyes, kissing each other — they are either already kissing (in case of Samsung's version) or just about to start kissing (in all other cases). This emoji looks much like Couple With Heart: 👨 Man, Man emoji and it is just as well complemented with the pink or ❤️️️ Red Heart between the two, which directly hints at the romantic type of the relationship they have. So.

no wonder that it is always used only in the romantic context, relating to the 🌈 Gay men, who are in ❤️️ Love with each other. +add

Copy & Paste this emoji:

📖 Contents:
---
Examples of 👨‍❤️‍💋‍👨 Kiss: Man, Man Emoji using
Popular phrases with 👨‍❤️‍💋‍👨 Kiss: Man, Man Emoji to use in messengers and web:


Tap / click to copy & paste
I love my boyfriend and I miss hI'm 👨‍❤️‍💋‍👨
So happy to see hI'm at last 👨‍❤️‍💋‍👨

+add
---
Relevant kaomojis
Kaomojis are popular in Japan to share emotions and situations using Japanese grammar punctuations and characters. Like this: ( ˘ω˘ )☞♡☜( ˘ω˘ )! You can use this creative style in messengers and web to impress your friends.


Tap / click to copy & paste
( ˘ω˘ )☞♡☜( ˘ω˘ )
(͡ ° ͜ °)♥(° ͜ °)
( ๑ ᴖ ᴈ ᴖ)ᴖ ᴑ ᴖ๑)
( ᵕ̤ɜ)ᵕ̤ૢᴗᵕ̤ૢ )
(*^3(#∀#)
(^_^ ;)ε ̄)
(◦˘ З(◦'ںˉ◦)♡
(ɔˆ ³(ˆ⌣ˆc)
(ღ ・ิ◡・ิ)ε ・ิ ღ)
(っ˘з(˘⌣˘ )
(•_•) | \\ \\__(•_•) _|| _|| \\\\

+Add
---
👨‍❤️‍💋‍👨 Kiss: Man, Man Emoji look across different devices
Emojis may look different across platforms. Every web service, OS or gadgets' manufacturer may create Emojis design according to their own corporate style and vision. Here you can check out how 👨‍❤️‍💋‍👨 Kiss: Man, Man Emoji looks like on most popular platforms:


👨‍❤️‍💋‍👨Your browser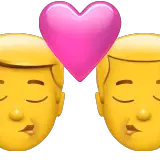 Apple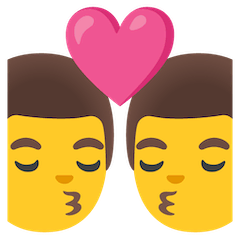 Google
Microsoft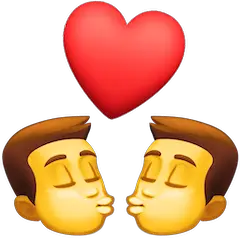 Facebook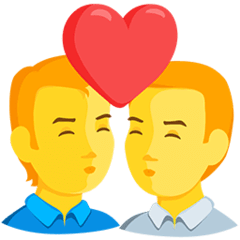 Messenger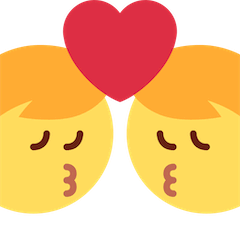 Twitter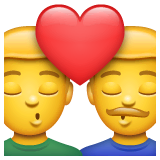 WhatsApp

Samsung

LG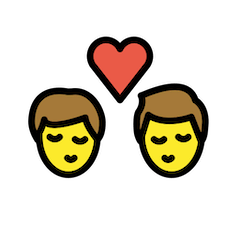 Openmoji
Did you find what you were searching for? 🤔🔎



👍 Yes

      

👎 No



Thanks! ☀️
Related Emojis
Related Themes & Holidays
General information about 👨‍❤️‍💋‍👨 Kiss: Man, Man Emoji
Full name
👨‍❤️‍💋‍👨 Kiss: Man, Man
Category
🤷 People & Body
Subcategory
👪 Family
How to type shortcode

:kiss_mm:

Unicode (fully-qualified)
U+1F468 U+200D U+2764 U+FE0F U+200D U+1F48B U+200D U+1F468
Made with
U+1F468 👨 Man
U+200D Zero Width Joiner
U+2764 ❤️ Red Heart
U+FE0F Variation Selector-16
U+200D Zero Width Joiner
U+1F48B 💋 Kiss Mark
U+200D Zero Width Joiner
U+1F468 👨 Man
Unicode (minimally-qualified)
👨‍❤‍💋‍👨 U+1F468 U+200D U+2764 U+200D U+1F48B U+200D U+1F468
Unicode version
Unicode 6.0 (2010)
Listed in
Emoji Version 2.0
Hex Code Points
1F468 200D 2764 FE0F 200D 1F48B 200D 1F468
URL Escape Code
%F0%9F%91%A8%E2%80%8D%E2%9D%A4%EF%B8%8F%E2%80%8D%F0%9F%92%8B%E2%80%8D%F0%9F%91%A8
Translations and keywords for 👨‍❤️‍💋‍👨 Kiss: Man, Man Emoji