💏

Kiss Emoji
Meaning of
💏

Kiss Emoji

Kiss emoji is a picture of an opposite-sex couple who is about to Kiss each other (in the cases of most emoji providers) or are already kissing (in the case of Samsung and emojidex). It looks like it is the follow-up of 💑 Couple With Heart emoji — especially in the versions where it features a heart above the kissing two.

Unsurprisingly, the meanings it is used in are always connected to ❤️ Love to someone very close and vital — be that love in a romantic sense or devotion to a 👪 Family member. Yet, the first meaning is much more common because of the emoji's romantic look.

Copy & Paste this emoji:
Contents:
---
Examples of
💏

Kiss Emoji using

Popular phrases with 💏 Kiss Emoji to use in messengers and the web:

Tap / click to copy & paste

I have a surprise for you when you get home 😏😉💏

I had the best date in my life today 💏

I love my boyfriend so much 💏
---
Combinations with
💏

Kiss Emoji

Combinations are just a bunch of emojis placed together, like this: 💏❤️‍🔥💋. You can use combos to make riddles or messages without words.

Tap / click to copy & paste

💏❤️‍🔥💋

— Passionate romance

😍💏🤲

— Repairing Relationships

💏🤟🙏

— Thanks and Blessings

💏💑👨‍👩‍👦‍👦

— Kissing Your Loved Ones

💏👨‍👦‍👦

— My husband and my boys

🌿💏🌿💕

— Kiss under the mistletoe
---
Relevant kaomoji
Kaomoji are popular in Japan for sharing emotions and situations using Japanese grammar, punctuation, and characters. Like this: ( ˘ω˘ )☞♡☜( ˘ω˘ )! To impress your friends, you can use this creative style in messengers and the web.
Tap / click to copy & paste
( ˘ω˘ )☞♡☜( ˘ω˘ )
( ´•₎౩•` )
(。ˇ ⊖ˇ)
(○´3`)ノ
(๑ơ ₃ ơ)♥
( ^з^) y -☆
(*^3^)
⁽˙³˙⁾
( ੈჰ ੈ)
(๑•́ ₃ •̀๑)
(•_•) | \\ \\__(•_•) _|| _|| \\\\
(´∩。• ᵕ •。∩`)
(_●_●)(
(•з•)
(*=*)
---
💏

Kiss Emoji Skin Tones Modifiers

Tap / click to copy & paste
---
💏

Kiss Emoji look across different devices

Emojis may look different across platforms. Every web service, OS, or gadget manufacturer may create an Emojis design according to their corporate style and vision. Here you can check out how 💏 Kiss Emoji looks like on most popular platforms: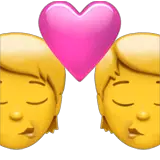 Apple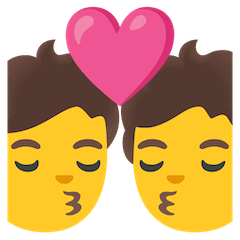 Google
Microsoft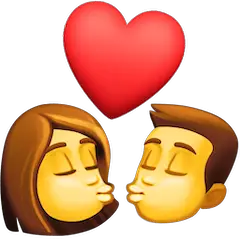 Facebook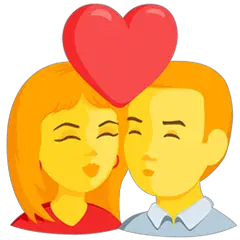 Messenger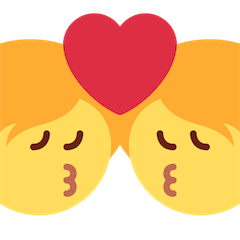 Twitter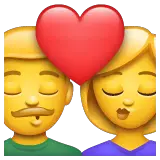 WhatsApp

Samsung

LG

HTC
Mozilla

SoftBank
au by KDDI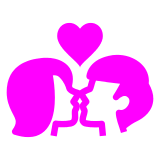 Docomo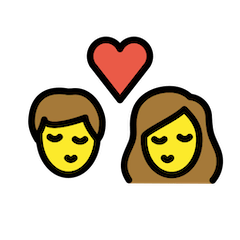 Openmoji

Icons8
Related Emojis
😘

Face Blowing a Kiss
😗

Kissing Face
💋

Kiss Mark
😚

Kissing Face With Closed Eyes
💘

Heart With Arrow
😙

Kissing Face With Smiling Eyes
💑

Couple With Heart
😽

Kissing Cat
👩‍❤️‍💋‍👨

Kiss: Woman, Man
👫

Woman And Man Holding Hands
👨‍❤️‍💋‍👨

Kiss: Man, Man
👩‍❤️‍💋‍👩

Kiss: Woman, Woman
👨‍👦

Family: Man, Boy
👨‍👧

Family: Man, Girl
👨‍👧‍👦

Family: Man, Girl, Boy
👨‍👩‍👦

Family: Man, Woman, Boy
👩‍👧‍👦

Family: Woman, Girl, Boy
Related Themes & Holidays
General information about
💏

Kiss Emoji
Translations and keywords for
💏

Kiss Emoji