🇨🇦
EHmojis
EHmojis
— is an emoji keyboard released by Tim Hortons, Canada's largest fast food restaurant chain. The emoji collection depicts the cultural and natural features of
🇨🇦 Canada
, and allows members of the country to express their identity online.
The first eatery, founded by Canadian
🏒 Hockey
player Tim Hortons, opened in Ontario in 1964. Now the chain, which sells mostly coffee drinks and sweet
🍩 Donuts
, operates not only in Canada, but also in the
🇺🇸 United States
,
🇴🇲 Oman
, the
🇬🇧 UK
and the
🇦🇪 UAE
. The company was named the nation's most trusted brand in a national survey published in 2015.
The bilingual keyboard, developed for Tim Hortons by marketing company Snaps, was introduced in June 2015 specially for
🇨🇦 Canada Day
. At the time of release, the emoji set included an image of a branded coffee
🥤 Glass
and 11 other unique Canadian-themed designs.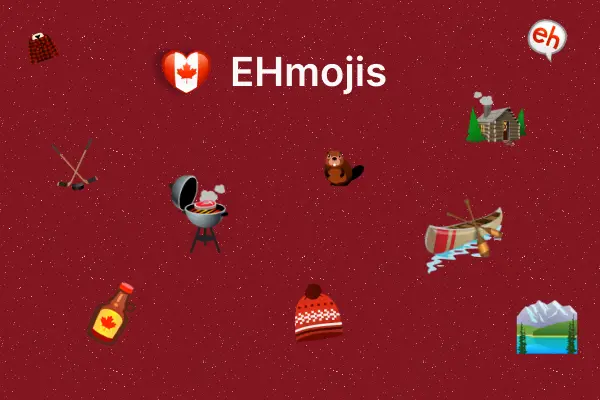 Emojis set — EHmojis
For example, such popular Canadian symbols as
🍁 Maple leaf
,
Moose
and Muskoka lounge
🪑 Chair
became emoticons. And the multi-valued Canadian word "EH," making any conversation easier, not only took the appearance of a
💭 Thought bubble
, but it also became part of the keyboard's name.
As of September 2022, 18 themed characters have been added to the app, and the collection now holds 30 emoji.
How to get EHmojis collection?
The Canadian emoji keyboard is compatible with Android and iOS operating systems, and is available to download for free on the App Store and Google play. Once downloading the EHmojis collection to your device, invite your friends to eat
🦞 Lobster
, play hockey, watch Canada Day
🎆 Fireworks
or just have a
☕ Cup of coffee
.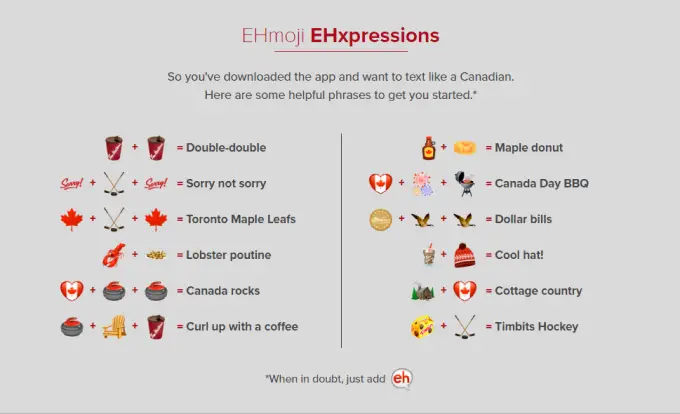 Examples of using EHmojis
To do this, click on the desired emoji and press its icon. This will copy the emoji to the clipboard. Then paste this emoji into the message box, following the standard actions of the device user.
Here you can find the full list of EHmojis emojis: