👱

Person: Blond Hair Emoji
Meaning of
👱

Person: Blond Hair Emoji

Blond-Haired Person (Person With Blond Hair) emoji depicts the face of the Caucasian person with blond or light red hair and brown or blue 👀 Eyes. It may be used in every meaning, related to this group of people — for example, in the jokes about white men and 👩👱‍♀️ Women, in self-introductions, and in any posts, telling about them. It is often used in "hello" messages by young white people and their posts telling about the events from their life (sometimes together with other emoji to specify the occasion).

Also, Blond Hair 👨 Man emoji is the icon of the official Snapchat account of the famous American DJ Diplo.

Copy & Paste this emoji:
Contents:
---
Examples of
👱

Person: Blond Hair Emoji using

Popular phrases with 👱 Person: Blond Hair Emoji to use in messengers and the web:

Tap / click to copy & paste

Going to my first job interview 👱

Well, hello there! 👱
---
Combinations with
👱

Person: Blond Hair Emoji

Combinations are just a bunch of emojis placed together, like this: 👱‍♀️🦁🥀❤️✨. You can use combos to make riddles or messages without words.

Tap / click to copy & paste

👱‍♀️🦁🥀❤️✨

— Beauty and the Beast

👧👗🧑🤡👱‍♂️💀👩👿👩‍🦰👻

— Halloween costumes

👱‍♀️🔛🔝

— Position Of Power

🗣👻👱🏻‍♀️📺🏠🚪💀🤡

— Poltergeist

👱‍♀️🌼🍃

— Admiring the daisy

👨‍🦳🧓👱‍♂️👶💀

— Benjamin Button

👽☎️📡👱🏻‍♂️🚲🌙

— Very Strange Things

👱‍♀️💃🙋🤳

— Making a Tik Tok

👱‍♀️🍬🍩

— I love marzipan filling

👩🏻‍🦰🟰👨🏾‍🦱🟰👧🏽🟰👱🏻‍♂️

— We are all equal

👱‍♀️🗨️

— What is she thinking…
---
Relevant kaomoji
Kaomoji are popular in Japan for sharing emotions and situations using Japanese grammar, punctuation, and characters. Like this: (*´▽`*)! To impress your friends, you can use this creative style in messengers and the web.
Tap / click to copy & paste
(*´▽`*)
( ^∇^)
(‐^▽^‐)
_へ__(‾◡◝ )>
(≡^∇^≡)
(●⌒∇⌒●)
⊂((・▽・))⊃
∩(︶▽︶)∩
( ◞・౪・)
(^∇^)
(^▽^)
(ノ^∇^)
∠( ᐛ 」∠)_
(*^▽^*)
(⌒▽⌒)☆
("⌒∇⌒")
(*≧▽≦)
(*⌒∇⌒*)
(=⌒▽⌒=)
(͝ ° ͜ʖº)
(=´∇`=)
(*~▽~)
(⌒▽⌒)
( ̄▽+ ̄*)
(゜▽゜;)
(͠≖ ͜ʖ͠≖)
---
👱

Person: Blond Hair Emoji look across different devices

Emojis may look different across platforms. Every web service, OS, or gadget manufacturer may create an Emojis design according to their corporate style and vision. Here you can check out how 👱 Person: Blond Hair Emoji looks like on most popular platforms: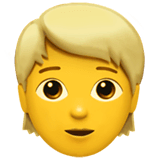 Apple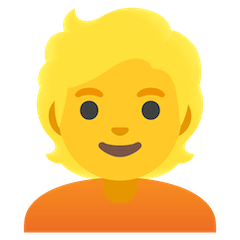 Google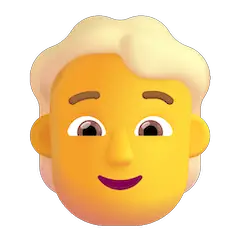 Microsoft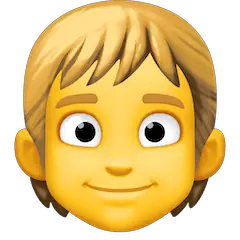 Facebook
Messenger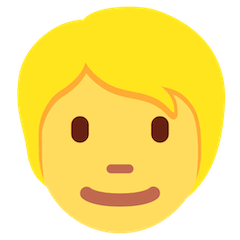 Twitter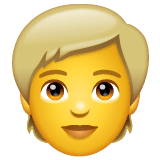 WhatsApp

Samsung

LG

HTC

Mozilla

SoftBank
au by KDDI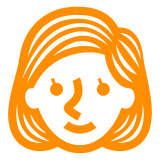 Docomo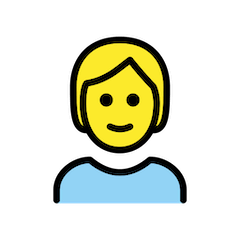 Openmoji

Icons8
Related Emojis
Related Themes & Holidays
General information about
👱

Person: Blond Hair Emoji
Translations and keywords for
👱

Person: Blond Hair Emoji