Meaning of 🇩🇿 Flag: Algeria Emoji
Perhaps one of the most interesting countries in the history of which many different empires left their mark on it. In the capital of the country with the same name Algeria monuments of the Ottoman Empire are still preserved, for example, the Ketshava mosque straight from 1612; Roman ruins are located in Tipaz and the existence of Basilique Notre-Dame d'Afrique in the Neo-Byzantine style suggests that there was once a 🇫🇷 French colony. Don't forget about natural attractions, one of which is Hoggar 🌄 Mountains and the highest point of the country is Mount Tahat. The two-colored flag should be used quite often in historical articles and be one of the main countries under discussion on the topic of its origin and formation.

Interesting facts:
Algeria is the largest state in Africa. There is an unusual lake in this country which, you won't believe, is filled with ink, yes, and it is used for writing. Algerians love ⚽ Football , as well as 🥖 Baguettes . +add

Copy & Paste this emoji:

📖 Contents:
---
Examples of 🇩🇿 Flag: Algeria Emoji using
Popular phrases with 🇩🇿 Flag: Algeria Emoji to use in messengers and web:


Tap / click to copy & paste
I am proud to live here 🇩🇿
Great place to visit! 🇩🇿
I'm going to 🇩🇿 Algeria!
I❤️️🇩🇿
My 🏠 is 🇩🇿
🇩🇿 in my ❤️️
– مرحبا!🇩🇿

+add
---
Combinations with 🇩🇿 Flag: Algeria Emoji
Combinations are just a bunch of emojis placed together, like this: ​🇩🇿​🕌​🇫🇷​. You can use combos to make riddles or messaging without words.


Tap / click to copy & paste
​🇩🇿​🕌​🇫🇷​

 — Ketshava mosque is here

😍❤️⚽

 — My favourite sport

🇫🇷🥖❤️

 — I love baguettes

+Add
---
Relevant kaomojis
Kaomojis are popular in Japan to share emotions and situations using Japanese grammar punctuations and characters. Like this: ╭(♡・ㅂ・)و/🇩🇿! You can use this creative style in messengers and web to impress your friends.


Tap / click to copy & paste
╭(♡・ㅂ・)و/🇩🇿
I❤️️🇩🇿
My 🏠 is 🇩🇿

+Add
---
🇩🇿 Flag: Algeria Emoji look across different devices
Emojis may look different across platforms. Every web service, OS or gadgets' manufacturer may create Emojis design according to their own corporate style and vision. Here you can check out how 🇩🇿 Flag: Algeria Emoji looks like on most popular platforms:


🇩🇿Your browser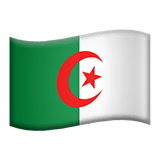 Apple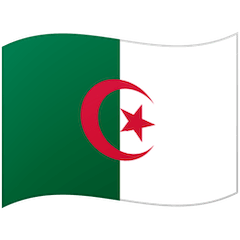 Google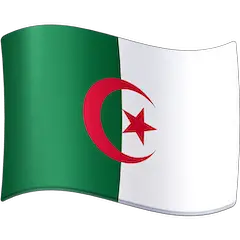 Facebook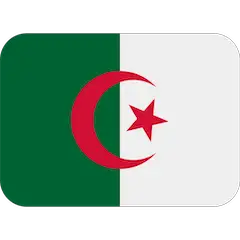 Twitter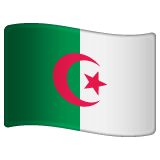 WhatsApp

Samsung

LG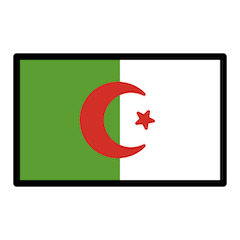 Openmoji
Related Emojis
General information about 🇩🇿 Flag: Algeria Emoji
Full name
🇩🇿 Flag: Algeria
Category
🇺🇸 Flags
Subcategory
🇺🇸 Country Flag
How to type shortcode

:flag_dz:

Unicode (fully-qualified)
U+1F1E9 U+1F1FF
Made with
U+1F1E9 Regional Indicator Symbol Letter D
U+1F1FF Regional Indicator Symbol Letter Z
Unicode version
Unicode 6.0 (2010)
Listed in
Emoji Version 1.0
Hex Code Points
1F1E9 1F1FF
URL Escape Code
%F0%9F%87%A9%F0%9F%87%BF
Translations and keywords for 🇩🇿 Flag: Algeria Emoji