🚫

Prohibited Emoji
Prohibited Emoji Meaning
Prohibited emoji is a 🔴 Red Circle with a diagonal slash that is one of the most commonly used emoji because of how versatile it is. The Prohibited emoji can be used to show that a person, item, or action is not allowed in a certain area. It can also be used as a more aggresive version of no if someone can't take the hint with an 😠 Angry Face emoji and ✋ Raised Hand emoji.

It can be paired with practically every emoji if you have that much of a distaste in certain objects.
Copy and Paste:
Contents:
---
Phrases Examples
Popular phrases for messaging and web communication:
Tap / click to copy & paste
Stop yelling at me! 😭🚫😡
No more school! 🚫🏫😃
Don't believe everything you see on the internet 🚫💻🖱
Food is 🚫 in the Church
I already told you 🚫 leave me alone
I can't sleep 😴🚫
I hate math! 😡🚫📈📉
Stop saying this! 💬🚫
---
Combinations with
🚫

Prohibited Emoji

Combinations are just a bunch of emojis placed together, like this: 👨‍💻👩‍💻🚫🏢. You can use combos to make riddles or messages without words.

Tap / click to copy & paste

👨‍💻👩‍💻🚫🏢

— Remote employees

🚫😢🍼💦

— Don't Cry Over Speed Milk

💼📂🚫💻📱

— Don't need anymore

💻🚫🏢

— Working outside the office

👀📺😡👬🚫❓

— Did you watch without me?

💥🏛️💣🚫

— Gunpowder Plot Failure

👫🚫🎀💍

— No Strings Attached

🚫⏰🐂💩

— No Time For Your Bullshit

🚫😎💡

— Not The Brightest Bulb

🔋🔌🚫

— The battery is charged

🤏🚫🟢

— Pinching for not Wearing Green

🚫🧢❤️

— Caps are not allowed

🚫🛜

— Wi-Fi doesn't work well

🚫💄📷💁‍♀️

— No Makeup Selfie

🚫👩‍🎨👩‍🚒🕵️‍♀️

— Unafficial Employee

🍔🍟🚫🍎🥦✅

— Fast food is evil

🚫🙅‍♀️🚬

— Smoking is forbidden

🧑🎥🎞🚫✈️

— Shooting a disaster movie

🚫🚽📃

— We're out of toilet paper

🐢🚫🍴

— You can't eat turtles
---
Relevant kaomoji
Kaomoji are popular in Japan for sharing emotions and situations using Japanese grammar, punctuation, and characters. Like this: _ _\\_(-_-)\\\\_/! To impress your friends, you can use this creative style in messengers and the web.
Tap / click to copy & paste
_ _\\_(-_-)\\\\_/
(╬▔皿▔)╯
(-//-)
-_☆
---
Look across different devices
Emojis may look different across platforms. Every web service, OS, or gadget manufacturer may create an Emojis design according to their corporate style and vision. Here you can check out how 🚫 image Emoji looks like on most popular platforms: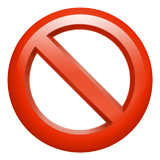 Apple
Google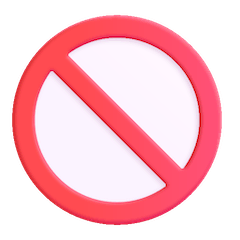 Microsoft
Facebook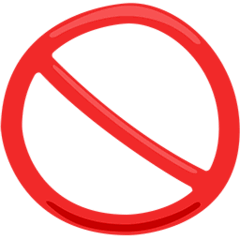 Messenger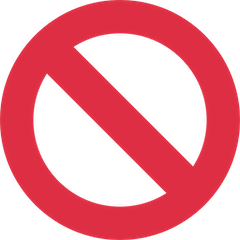 Twitter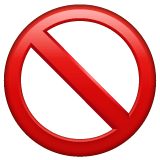 WhatsApp

Samsung

LG

HTC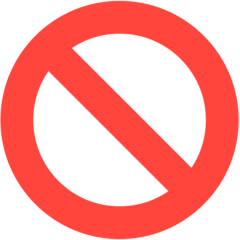 Mozilla

SoftBank
au by KDDI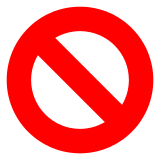 Docomo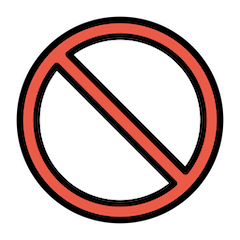 Openmoji

Icons8
See also
Related Themes & Holidays
General information
Translations and keywords