❌

Cross Mark Emoji
Meaning of
❌

Cross Mark Emoji

The ❌ Cross Mark emoji is a large, red X that has a negative connotation. Unlike the ✔️ Check Mark, this emoji indicates that a task has not been completed satisfactorily and needs to be redone.

If you receive this emoji, along with the 🚫 Prohibited emoji, it means that you have another chance to redo the work. This emoji can also be used to express disapproval towards someone's attitude or actions. You can send it along with the 👎 Thumbs Down emoji to let someone know that you do not approve of what they are doing and hope that they change their ways.

In addition, ❌ can also mean "no" or be used as a sign to stop or say "no" directly. If someone asks you a question and you don't want to say a whole sentence with the word "no," you can simply use ❌.

Copy & Paste this emoji:
Contents:
---
Examples of
❌

Cross Mark Emoji using

Popular phrases with ❌ Cross Mark Emoji to use in messengers and the web:

Tap / click to copy & paste

I do not approve ❌ of your attitude today

I have to deny ❌ your work today but try again tomorrow

Do ❌ throw trash on the ground
---
Combinations with
❌

Cross Mark Emoji

Combinations are just a bunch of emojis placed together, like this: 👀❤️👉❌⭕. You can use combos to make riddles or messages without words.

Tap / click to copy & paste

👀❤️👉❌⭕

— I love you like XO

✔️👳‍♀️❌

— Should I wear a turban?

❌😬👋🏻🍛

— Do not bite nursing

🤷‍♀️❌🛜

— No Wi-Fi connection

⬆️❌⬆️⬅️

— North By Northwest

👨🎁❌⚠️

— Don't take gifts from strangers

🤬❌🥺

— Don't yell at children

👩‍🚀🔴❌🔪

— Red did not kill!

⚠️❌

— Stay out of the way, it'll kill you.

🎼👉❌😴🛏️

— The music keeps me awake

😐❌💭👉🤭

— Stop thinking about it!
---
Relevant kaomoji
Kaomoji are popular in Japan for sharing emotions and situations using Japanese grammar, punctuation, and characters. Like this: →_←! To impress your friends, you can use this creative style in messengers and the web.
Tap / click to copy & paste
→_←
Х
(-//-)
ʕ✖﹏✖ʔ
-_☆
x+x
---
❌

Cross Mark Emoji look across different devices

Emojis may look different across platforms. Every web service, OS, or gadget manufacturer may create an Emojis design according to their corporate style and vision. Here you can check out how ❌ Cross Mark Emoji looks like on most popular platforms: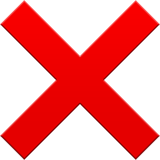 Apple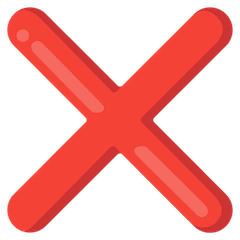 Google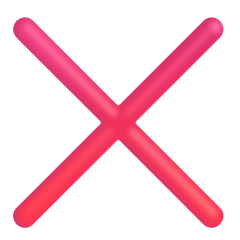 Microsoft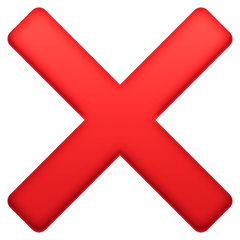 Facebook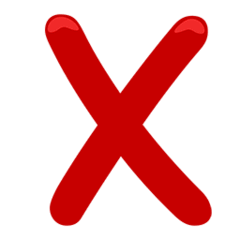 Messenger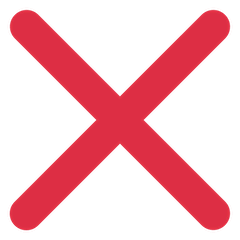 Twitter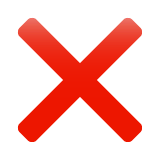 WhatsApp

Samsung

LG

HTC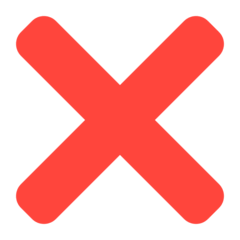 Mozilla

SoftBank
au by KDDI

Docomo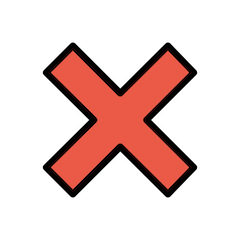 Openmoji

Icons8
Related Emojis
Related Themes & Holidays
General information about
❌

Cross Mark Emoji
Translations and keywords for
❌

Cross Mark Emoji