Meaning of 👭 Women Holding Hands Emoji
Two Women Holding Hands emoji is the female version of 👬 Two Men Holding Hands emoji. It looks exactly the same way with the only difference in 💏 Sex. As for meanings, essentially, they are all about the close relationship, caring, and support.

And this relationship may be anything from romance and ❤️️ Love (despite the lack of romantic elements like hearts) to friendship and sisterhood. Unlike its opposite-sex version, this one is equally often used in all these meanings — the meanings of friendship and 👪 Family connection are even more common. +add

Copy & Paste this emoji:

📖 Contents:
---
Examples of 👭 Women Holding Hands Emoji using
Popular phrases with 👭 Women Holding Hands Emoji to use in messengers and web:


Tap / click to copy & paste
I love her and I'll always stay by her 👭
My sister is the best 👭

+add
---
Combinations with 👭 Women Holding Hands Emoji
Combinations are just a bunch of emojis placed together, like this: ​👭​⛄️​❄️️​. You can use combos to make riddles or messaging without words.


Tap / click to copy & paste
​👭​⛄️​❄️️​

 — Frozen

​👬​👭​🌍​🔚​

 — This Is The World End

​👳‍♂️​👭​👭​👭​

 — Harem

​💁‍♂️​👭​🤦​

 — Condemnation of society

​👭​🏳️‍🌈​👬​

 — LGBT community

​👭​👭​🌃​➡️​

 — Girls Night Out

​👿​👭​

 — Evil Twins

​💪​💨​👭​

 — Powerpuff Girls

​🎓​👬🏻​👭​

 — Alumni

​💃🏼​🕺🏽​👭​

 — Dancing together

​⛵​👭​👫​

 — Immigrating to America

​👭​📜​✍️​

 — Making a Team Card

​👬​🥂​👭​🍕​😢​

 — Remembering the weekend

​👬🏻​👭​⌚​🥂​

 — Spending Time With Friends

​👭​👯​🎈​

 — Team Party

​👬🏻​👭​⌚​🍻​

 — Vacation with friends

​👬🏻​👭​🎴​

 — A board game night

+Add
---
Relevant kaomojis
Kaomojis are popular in Japan to share emotions and situations using Japanese grammar punctuations and characters. Like this: ( 。・_・。)人(。・_・。 )! You can use this creative style in messengers and web to impress your friends.


Tap / click to copy & paste
( 。・_・。)人(。・_・。 )
( 。・_・。)人(。・_・。 )
( ͡° ͜ʖ ͡°)ʖ ͡°)
( ⌒o⌒)人(⌒-⌒ )v
(・_・")/\(・_・")
(*・∀・)/\(・∀・*)
(*´∀`*人*´∀`*)
(^▽^)/\(^▽^)
(°◇°人°◇°)
ヘ( ^o^)ノ\(^_^ )

+Add
---
👭 Women Holding Hands Emoji Skin Tones Modifiers
Tap / click to copy
👭🏻

Women Holding Hands

light skin tone

👩🏻‍🤝‍👩🏼

Women Holding Hands

light skin tone, medium-light skin tone

👩🏻‍🤝‍👩🏽

Women Holding Hands

light skin tone, medium skin tone

👩🏻‍🤝‍👩🏾

Women Holding Hands

light skin tone, medium-dark skin tone

👩🏻‍🤝‍👩🏿

Women Holding Hands

light skin tone, dark skin tone

👩🏼‍🤝‍👩🏻

Women Holding Hands

medium-light skin tone, light skin tone

👭🏼

Women Holding Hands

medium-light skin tone

👩🏼‍🤝‍👩🏽

Women Holding Hands

medium-light skin tone, medium skin tone

👩🏼‍🤝‍👩🏾

Women Holding Hands

medium-light skin tone, medium-dark skin tone

👩🏼‍🤝‍👩🏿

Women Holding Hands

medium-light skin tone, dark skin tone

👩🏽‍🤝‍👩🏻

Women Holding Hands

medium skin tone, light skin tone

👩🏽‍🤝‍👩🏼

Women Holding Hands

medium skin tone, medium-light skin tone

👭🏽

Women Holding Hands

medium skin tone

👩🏽‍🤝‍👩🏾

Women Holding Hands

medium skin tone, medium-dark skin tone

👩🏽‍🤝‍👩🏿

Women Holding Hands

medium skin tone, dark skin tone

👩🏾‍🤝‍👩🏻

Women Holding Hands

medium-dark skin tone, light skin tone

👩🏾‍🤝‍👩🏼

Women Holding Hands

medium-dark skin tone, medium-light skin tone

👩🏾‍🤝‍👩🏽

Women Holding Hands

medium-dark skin tone, medium skin tone

👭🏾

Women Holding Hands

medium-dark skin tone

👩🏾‍🤝‍👩🏿

Women Holding Hands

medium-dark skin tone, dark skin tone

👩🏿‍🤝‍👩🏻

Women Holding Hands

dark skin tone, light skin tone

👩🏿‍🤝‍👩🏼

Women Holding Hands

dark skin tone, medium-light skin tone

👩🏿‍🤝‍👩🏽

Women Holding Hands

dark skin tone, medium skin tone

👩🏿‍🤝‍👩🏾

Women Holding Hands

dark skin tone, medium-dark skin tone

👭🏿

Women Holding Hands

dark skin tone
---
👭 Women Holding Hands Emoji look across different devices
Emojis may look different across platforms. Every web service, OS or gadgets' manufacturer may create Emojis design according to their own corporate style and vision. Here you can check out how 👭 Women Holding Hands Emoji looks like on most popular platforms:


👭Your browser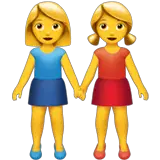 Apple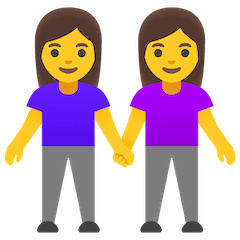 Google
Microsoft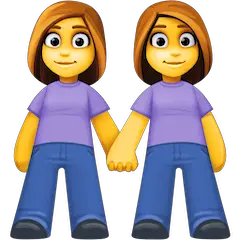 Facebook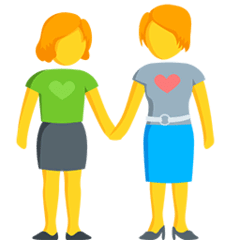 Messenger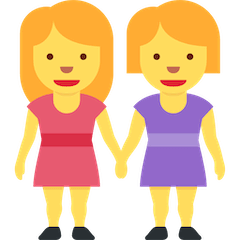 Twitter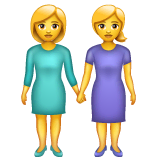 WhatsApp

Samsung

LG

HTC

Mozilla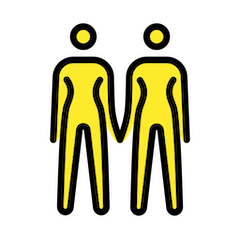 Openmoji
Related Emojis
Related Themes & Holidays
General information about 👭 Women Holding Hands Emoji
| | |
| --- | --- |
| Full name | 👭 Women Holding Hands |
| Category | 🤷 People & Body |
| Subcategory | 👪 Family |
| How to type shortcode | :two_women_holding_hands: |
| Unicode (fully-qualified) | U+1F46D |
| Unicode version | Unicode 6.0 (2010) |
| Listed in | Emoji Version 1.0 |
| Hex Code Points | 1F46D |
| URL Escape Code | %F0%9F%91%AD |
Translations and keywords for 👭 Women Holding Hands Emoji