Meaning of 🧰 Toolbox Emoji
Toolbox emoji is a collection of different tools all in one convenient box. It is one of the many tool themed emojis available. It can be used to show how handy you are and that you are a jack-of-all-trades.

Or it can be simply used to ask someone to bring you a Toolbox. It can be switched with the 🔨 Hammer and 🔧 Wrench, Wrench emoji, or 🔩 Nut And Bolt emoji as both represent building or home improvement. +add

Copy & Paste this emoji:

📖 Contents:
---
Examples of 🧰 Toolbox Emoji using
Popular phrases with 🧰 Toolbox Emoji to use in messengers and web:


Tap / click to copy & paste
We don't need a repairman, I can do it myself 🧰
Call me the handy-man man 🧰!

+add
---
Combinations with 🧰 Toolbox Emoji
Combinations are just a bunch of emojis placed together, like this: ​🧰​🛠️​. You can use combos to make riddles or messaging without words.


Tap / click to copy & paste
​🧰​🛠️​

 — Tool box

​✊​⚒️️​🧰​

 — Time to get to work

​✊​⚒️️​🧰​

 — Achievments of Workers

+Add
---
🧰 Toolbox Emoji look across different devices
Emojis may look different across platforms. Every web service, OS or gadgets' manufacturer may create Emojis design according to their own corporate style and vision. Here you can check out how 🧰 Toolbox Emoji looks like on most popular platforms:


🧰Your browser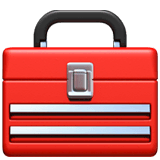 Apple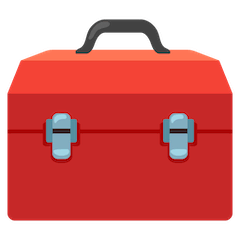 Google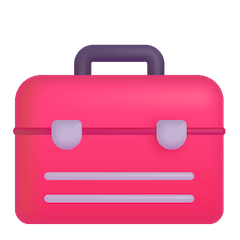 Microsoft
Facebook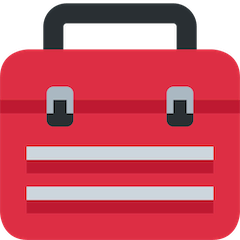 Twitter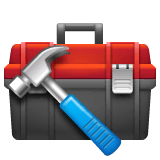 WhatsApp

Samsung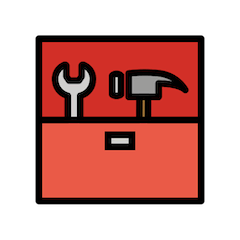 Openmoji
Related Emojis
General information about 🧰 Toolbox Emoji
| | |
| --- | --- |
| Full name | 🧰 Toolbox |
| Category | 📮 Objects |
| Subcategory | 🔨 Tool |
| How to type shortcode | :toolbox: |
| Unicode (fully-qualified) | U+1F9F0 |
| Unicode version | Unicode 11.0 (2018) |
| Listed in | Emoji Version 11.0 |
| Hex Code Points | 1F9F0 |
| URL Escape Code | %F0%9F%A7%B0 |
Translations and keywords for 🧰 Toolbox Emoji