🧽
SpongeBob SquarePants Emojis Collection
SpongeBob SquarePants is a character in the animated series of the same name. Bob is a yellow sponge living at the bottom of the
🌊 Pacific Ocean
in the city of Bikini Bottom.
SpongeBob works as a
👨‍🍳 Chef
at the Krusty Krab restaurant along with his neighbor the
🐙 Octopus
Squidward. Their boss and the owner of the restaurant
🦀 Mr. Krabs
is a greedy crab who loves
💵 Money
. They also have a common enemy — Plankton, who is always trying to steal the secret recipe of
🍔 crab burger
.
SpongeBob has a best friend
⭐️ Patrick
, a friend Sandy, who is a scientist
🐿 Squirrel
from Texas, and a pet
🐌 Snail
Gary.
Use the emojis from the Spongebob Squarepants collection to compare someone to Mr. Krabs
🧑➡️🤑🦀
. Or just express your joy with these emojis.
Tell us about your favorite touching moments from the show, like when Gary left SpongeBob
🐌➡️🚪
. Or famous memes
🐙💐🪦
.
For example, show your imagination with the Rainbow + Hands emojis
🌈🙌🌈
.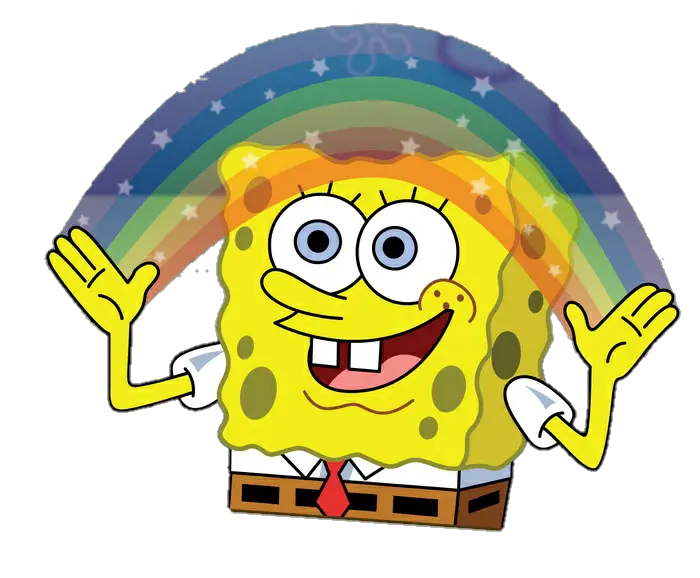 A shot from episode 8 of season 3 Idiot Box, where the Sponge says "Imagination!" This moment became a famous meme.
Interesting Facts:
SpongeBob SquarePants is the longest-running animated series on Nickelodeon. The first episode was released on May 1, 1999. 13 seasons have been filmed, which includes 269 episodes to date, October 2021. If you watch all the episodes in a row without stopping, then it will take 4 days, 2 hours, and 38 minutes;
In 2010, a new species of 🍄 Mushrooms were discovered, which were named after SpongeBob;
Plankton's full name is Sheldon Peter James Plankton. As a child, he was the best friend of Mr. Krabs;
3 full-length films have been filmed about SpongeBob: SpongeBob Squarepants (2004), SpongeBob in 3D (2015), Sponge on the Run (2021). And one spin-off ⛺ Kamp Koral: SpongeBob's Under Years.
I started this website as an evening side project back in 2017. Eventually, I left my 9-to-5 job to focus entirely on this passion. To help support both me and my team, kindly consider donating. Every contribution makes a difference.
Donate here
🩷
Combinations
Tap / click to copy & paste
— Squidward's hopes and dreams are buried here
Phrases
Tap / click to copy & paste