🚶

Person Walking Emoji
Meaning of
🚶

Person Walking Emoji

Person Walking emoji is a picture of either a male or female character dressed casually and walking somewhere in a relaxed manner. It is supposed to be gender-neutral, though in most cases, it is still a male character. It may be used in every context related to movement — from something meaningful like leaving the once-loved person or moving to a new 🏠 House to something insignificant like simply going out to a shop to buy some food or to a park to have a short walk.

Also, it is a symbol of all pedestrians — and in the version of emojidex, it looks like a road sign.

Copy & Paste this emoji:

This emoji has other gender variations: 🚶‍♀️ Woman Walking, 🚶‍♂️ Man Walking.
Contents:
---
Examples of
🚶

Person Walking Emoji using

Popular phrases with 🚶 Person Walking Emoji to use in messengers and the web:

Tap / click to copy & paste

I'm leaving my home town 🚶

I'm walking in the street 🚶
---
Combinations with
🚶

Person Walking Emoji

Combinations are just a bunch of emojis placed together, like this: 🤹‍♂️🎆🚶‍♀️🚶‍♂️. You can use combos to make riddles or messages without words.

Tap / click to copy & paste

🚶‍♂️🚶‍♀️⛪

— Going to Church

🚶‍♂️🚶‍♀️💥🎵🎶

— Opening Ceremony

🚶‍♂️➡️🕍

— Going to Synagogue

🤖🚪🚶‍♂️

— Door to the future

🚶🌊🙏

— Passion Of The Christ

🚶‍♂️📛

— Where is his badge

🐶🚶‍♂️

— For a walk with a dog

🇬🇷🚶‍♂️⛱️🔥

— Greece, Balkan Peninsula

🚶🚶🎺🥁

— Parades and Marching Bands

🚗🇫🇷🎖️🚶🚶

— French Soldiers Parade

🚶💥⬅️🚂

— Mission Impossible

🚶‍♂️🛴🏃‍♂️

— Return my scooter

🚶‍♀️🌂🚶‍♂️

— Umbrella for a walk

🚶🩼⚠️

— Wait! I can't keep up with you guys!

🌜🚶🏼‍♂️

— Walking under the moon

🚶‍♀️🚷🚶‍♂️

— You can't go here!

🕵🚶‍♀️🔪🏃

— Murder investigation

🕷️🚶‍♂️🏠💦

— Spiderman homecoming

🚗💨🚘🚶‍♂️

— Traveling on business

🚈🚶‍♀️🚊😮😫💥

— Caught under a train

🇭🇲⛔🚶‍♂️🇦🇺

— Heard & Mcdonald Islands

🧥🚶‍♂️🍸

— Let's go to the bar?

🇲🇸🇬🇧🏏✝️🚶‍♀️

— Montserrat, UK

🇧🇻⛔🚶‍♂️

— Uninhabited island
---
Relevant kaomoji
Kaomoji are popular in Japan for sharing emotions and situations using Japanese grammar, punctuation, and characters. Like this: (งツ)ว! To impress your friends, you can use this creative style in messengers and the web.
Tap / click to copy & paste
(งツ)ว
#ᕕ( ᐛ )ᕗ
₍₍ ᕕ(´◓⌓◔)ᕗ⁾⁾
ε=┌(;・_・)┘
ε=ε=ε=ε=ε=ε=┌(๑ʘ∀ʘ)┘
三┏ ( ˘ω˘ )┛
ε=┏(・ω・)┛
ε=ε=┌(; ・_・)┘
ε=ε=┌(; ̄◇ ̄)┘
ε=ε=┌( ̄ー ̄)┘
ε=ε=┌(๑ʘ∀ʘ)┘
ε=ε=┏( ^▽^)┛
ε=ε=┏(; ̄▽ ̄)┛
|--(©_©) - - /
|—(0_0)—|- - -
/_\\|_|(-_-)
(o-o)---
┗|`o′|┛
---
🚶

Person Walking Emoji Skin Tones Modifiers

Tap / click to copy & paste
---
🚶

Person Walking Emoji look across different devices

Emojis may look different across platforms. Every web service, OS, or gadget manufacturer may create an Emojis design according to their corporate style and vision. Here you can check out how 🚶 Person Walking Emoji looks like on most popular platforms: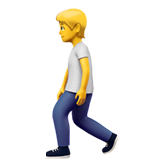 Apple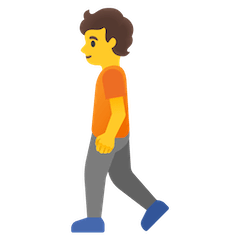 Google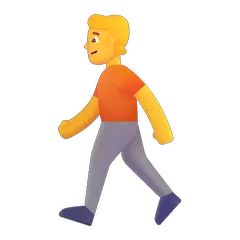 Microsoft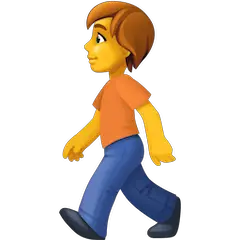 Facebook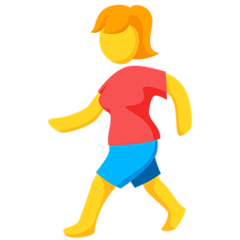 Messenger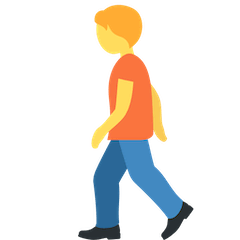 Twitter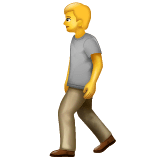 WhatsApp

Samsung

LG

HTC
Mozilla

SoftBank
au by KDDI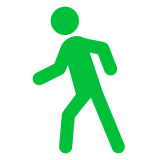 Docomo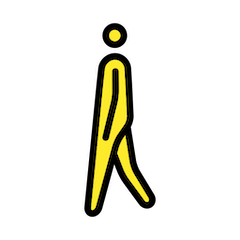 Openmoji

Icons8
Related Emojis
Related Themes & Holidays
General information about
🚶

Person Walking Emoji
Read more
Translations and keywords for
🚶

Person Walking Emoji