👐

Open Hands Emoji
Meaning of
👐

Open Hands Emoji

The 👐 Open Hands emoji depicts two human hands pointed straight forward in an open position. This versatile emoji can have various meanings depending on the context. It is commonly used to express hugging, similar to the 🤗 Hugging Face emoji. It can also represent manual labor, such as cleaning the 🏠 House or planting 🌳 Trees. Additionally, it can illustrate playful activities like making hand shadow puppets or playing with children.

Interestingly, the Open Hands emoji can also convey a lack of care or concern. It can also be used to express innocence, but it should not be confused with the 🤲 Palms Up Together emoji, which represents a double high five.

It is worth noting that the meaning of this emoji is highly dependent on the context in which it is used. For example, when discussing an off-putting or revolting subject, it can convey a "stay back" or "get away from me" connotation. However, when used in a flirty, steamy, or goofy context, it can connote "come closer, gimme those/your boobs."

Lastly, the Open Hands emoji is often associated with the hip-hop group the Wu-Tang Clan due to its resemblance to the group's "W" hand sign.

Copy & Paste this emoji:
Contents:
---
Examples of
👐

Open Hands Emoji using

Popular phrases with 👐 Open Hands Emoji to use in messengers and the web:

Tap / click to copy & paste

I want to hug you right now 👐

Human hands can do wonders 👐

Come closer, gimme your boobs 👐

Get away from me 👐

Stay back 👐!
---
Combinations with
👐

Open Hands Emoji

Combinations are just a bunch of emojis placed together, like this: 🙏👐😀. You can use combos to make riddles or messages without words.

Tap / click to copy & paste

⚖️➕👐

— Justice and Equality

👐🍙👪

— Making Rice Balls with the Family
---
Relevant kaomoji
Kaomoji are popular in Japan for sharing emotions and situations using Japanese grammar, punctuation, and characters. Like this: (・_・")/\(・_・")! To impress your friends, you can use this creative style in messengers and the web.
Tap / click to copy & paste
(・_・")/\(・_・")
(๑ ⁍̥̥̥᷅ ᴈ⁍̥̥̥᷅)人(⁌̥̥̥᷄ε ⁌̥̥̥᷄ ๑)ー
(*^o^)人(^o^*)
♪ヽ( ⌒o⌒)人(⌒-⌒ )v ♪
ヾ(*⌒∇⌒)八(⌒∇⌒*)ツ
(*・∀・)/\(・∀・*)
(((@°▽°@)八(@°▽°@)))
ヽ(∀゜ )人( ゜∀)ノ
☆-(ノ゚Д゚)八(゚Д゚ )ノ
/(v x v。)人(。v x v)\
(_ _)/\\( _ _)
---
👐

Open Hands Emoji Skin Tones Modifiers

Tap / click to copy & paste
---
👐

Open Hands Emoji look across different devices

Emojis may look different across platforms. Every web service, OS, or gadget manufacturer may create an Emojis design according to their corporate style and vision. Here you can check out how 👐 Open Hands Emoji looks like on most popular platforms: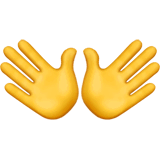 Apple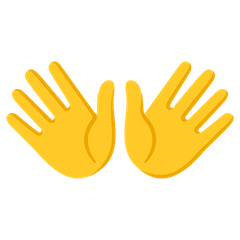 Google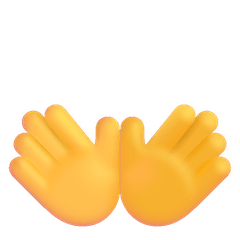 Microsoft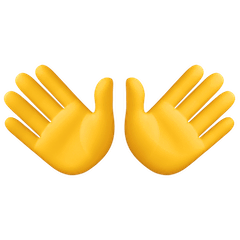 Facebook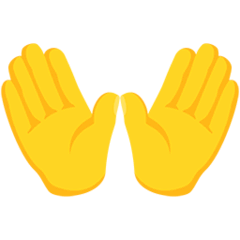 Messenger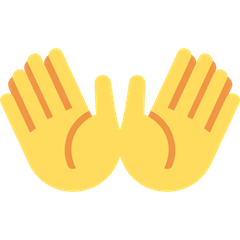 Twitter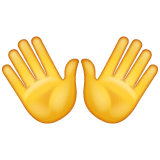 WhatsApp

Samsung

LG

HTC

Mozilla

SoftBank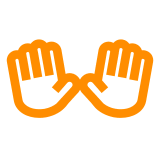 Docomo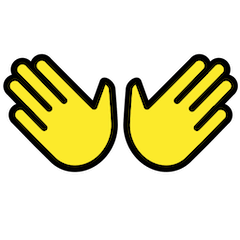 Openmoji

Icons8
Related Emojis
Related Themes & Holidays
General information about
👐

Open Hands Emoji
Translations and keywords for
👐

Open Hands Emoji