Meaning of ⛔ No Entry Emoji
No Entry emoji is a 🔴 Red Circle with a white dash in the center. This symbol is used on streets to prevent cars from entering a street the wrong way. It can also be used to stop pedestrians from entering a zone not open to the public.

When texting, you can use this emoji to tell someone not to go forward on something or to avoid entering into a troubling situation. Send this emoji with the 🛑 Stop Sign emoji and ⚠️ Warning emoji and hope you were able to get to your friend in time before they made a bad decision. +add

Copy & Paste this emoji:

📖 Contents:
---
Examples of ⛔ No Entry Emoji using
Popular phrases with ⛔ No Entry Emoji to use in messengers and web:


Tap / click to copy & paste
Look out for any roads that say ⛔ while driving
⛔ leave me alone!

+add
---
Combinations with ⛔ No Entry Emoji
Combinations are just a bunch of emojis placed together, like this: ​🚍​⛔️​. You can use combos to make riddles or messaging without words.


Tap / click to copy & paste
​⛔​🤚​

 — Stop

​⛔​🚙​

 — No way

​🇧🇮​⛔​🌊​

 — The country has no seas

​🇧🇻​⛔​🚶‍♂️​

 — Uninhabited island

​🇳🇪​💸​⛔​🌊​

 — Poor country

​🇪🇹​⛰️​⛔​🌊​

 — A country of mountains

​🇭🇲​⛔​🚶‍♂️​🇦🇺​

 — Heard & Mcdonald Islands

​🇲🇱​⛔​🌊​🦅​🏹​

 — Mali, West Africa

​🇲🇳​⛔​🌊​🐎​🏞️​

 — Mongolia, East Asia

​🇵🇾​⛔​🌊​🌵​🏜️​

 — Paraguay South America

​🇷🇼​⛔​🌊​🌄​🌋​🐒​🦍​

 — Rwanda, East Africa

​🇸🇿​⛔​🌊​🏞️​🏟️​

 — Esvatini, South Africa

​🇹🇩​⛔​🌊​📽️​

 — Chad

​🇿🇲​⛔​🌊​🌉​🏜️​

 — Zambia, East Africa

​🇿🇼​⛔​🌊​🏞️​💲​⬇️️​

 — Zimbabwe, Africa

​💥​🙇​⛔​

 — Breakneck Speed

​⛔​⚠️​😱​

 — Danger

​🚫​⛔​🐷​🐖​

 — Eating Kosher

​⛔​👄​🥣​

 — Fasting

+Add
---
⛔ No Entry Emoji look across different devices
Emojis may look different across platforms. Every web service, OS or gadgets' manufacturer may create Emojis design according to their own corporate style and vision. Here you can check out how ⛔ No Entry Emoji looks like on most popular platforms:


⛔Your browser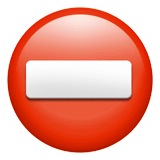 Apple
Google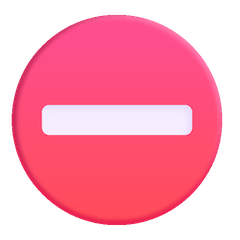 Microsoft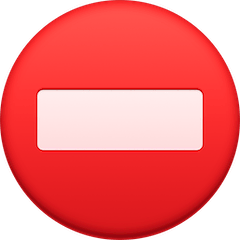 Facebook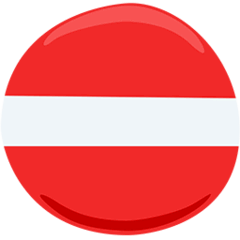 Messenger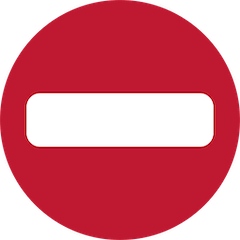 Twitter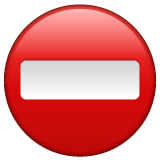 WhatsApp

Samsung

LG

HTC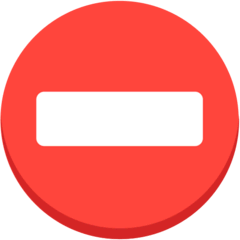 Mozilla

SoftBank
au by KDDI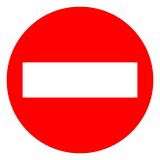 Docomo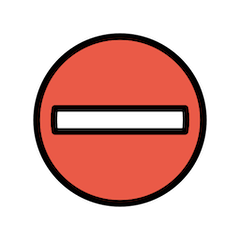 Openmoji
Did you find what you were searching for? 🤔🔎



👍 Yes

      

👎 No



Thanks! ☀️
Related Emojis
Related Themes & Holidays
General information about ⛔ No Entry Emoji
| | |
| --- | --- |
| Full name | ⛔ No Entry |
| Category | 💯 Symbols |
| Subcategory | 📵 Warning |
| How to type shortcode | :no_entry: |
| Unicode (fully-qualified) | U+26D4 |
| Unicode version | Unicode 5.2 (2009) |
| Listed in | Emoji Version 1.0 |
| Hex Code Points | 26D4 |
| URL Escape Code | %E2%9B%94 |
Translations and keywords for ⛔ No Entry Emoji