Meaning of 🖕 Middle Finger Emoji
Middle Finger emoji is the emoji representation of the recognized offensive hand gesture, which means extreme contempt for something or someone, strong disapproval of some actions or behavior, evil mockery, or even hate. It is often used alone but sometimes it is followed up by other emojis meant for intensifying its peculiar negative meaning, for example by 😠 Angry Face emoji. Also, it is often used as a symbol of one's badass behavior and as a symbol of their superiority over other people.

At last, it may mean that the user doesn't care what others think. +add

Copy & Paste this emoji:

📖 Contents:
---
Examples of 🖕 Middle Finger Emoji using
Popular phrases with 🖕 Middle Finger Emoji to use in messengers and web:


Tap / click to copy & paste
I hope people like you will burn in hell 🖕
Stay away from me 🖕
All I got to say to you is 🖕🏼

+add
---
Combinations with 🖕 Middle Finger Emoji
Combinations are just a bunch of emojis placed together, like this: ​🖕🏻​🎨​. You can use combos to make riddles or messaging without words.


Tap / click to copy & paste
​👮‍♂️​🖕​👮‍♀️​

 — Stay here! Police!

​🧑‍🦲​🖕​

 — Rebellion

​🖕​🤬​

 — That's what I think of you, Monday

+Add
---
Relevant kaomojis
Kaomojis are popular in Japan to share emotions and situations using Japanese grammar punctuations and characters. Like this: ( ︶︿︶)_╭∩╮! You can use this creative style in messengers and web to impress your friends.


Tap / click to copy & paste
( ︶︿︶)_╭∩╮
┌∩┐(ಠ_ಠ)┌∩┐
╭∩╮
ᕕ༼ ͠ຈ Ĺ̯ ͠ຈ ༽┌∩┐
凸(`△´+)
凸(`0´)凸
凸(¬‿¬)
凸(⊙▂⊙ )

+Add
---
🖕 Middle Finger Emoji Skin Tones Modifiers
Tap / click to copy
🖕🏻

Middle Finger

light skin tone

🖕🏼

Middle Finger

medium-light skin tone

🖕🏽

Middle Finger

medium skin tone

🖕🏾

Middle Finger

medium-dark skin tone

🖕🏿

Middle Finger

dark skin tone
---
🖕 Middle Finger Emoji look across different devices
Emojis may look different across platforms. Every web service, OS or gadgets' manufacturer may create Emojis design according to their own corporate style and vision. Here you can check out how 🖕 Middle Finger Emoji looks like on most popular platforms:


🖕Your browser
Apple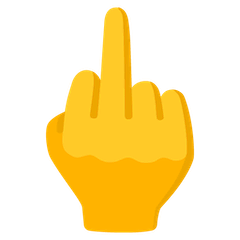 Google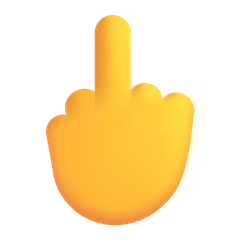 Microsoft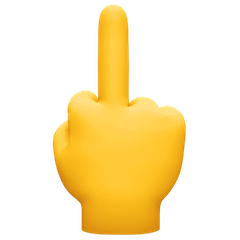 Facebook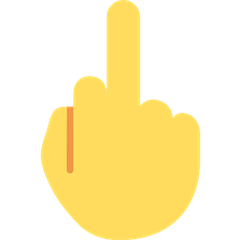 Twitter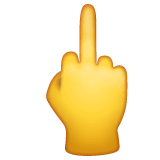 WhatsApp

Samsung

LG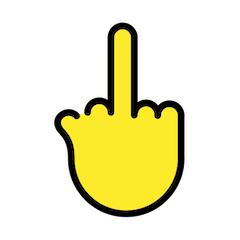 Openmoji
Related Emojis
Related Themes & Holidays
General information about 🖕 Middle Finger Emoji
| | |
| --- | --- |
| Full name | 🖕 Middle Finger |
| Category | 🤷 People & Body |
| Subcategory | ☝ Hand Single Finger |
| How to type shortcode | :middle_finger: |
| Unicode (fully-qualified) | U+1F595 |
| Unicode version | Unicode 7.0 (2014) |
| Listed in | Emoji Version 1.0 |
| Hex Code Points | 1F595 |
| URL Escape Code | %F0%9F%96%95 |
Translations and keywords for 🖕 Middle Finger Emoji