Meaning of 🧑‍⚖️ Judge Emoji
Judge emoji is meant to represent someone who has the legal capabilities to decide the course of action between two arguing parties. Use it to show you are going to a court date to find out how to proceed with an argument. Or it can represent that you are going to be the judge of an event coming up.

Send it with the ⚖️ Balance Scale emoji to show you are looking for justice. Send it with the 😠 Angry Face emoji if you are not happy with the outcome a judge decided on. +add

Copy & Paste this emoji:

This emoji has other gender variations: 👩‍⚖️️ ️Woman Judge, 👨‍⚖️️ ️Man Judge.

📖 Contents:
---
Examples of 🧑‍⚖️ Judge Emoji using
Popular phrases with 🧑‍⚖️ Judge Emoji to use in messengers and web:


Tap / click to copy & paste
Going to the 🧑‍⚖️ today to see if I get my kids back
Don't 🧑‍⚖️ me but I really like to pour honey on my eggs

+add
---
Combinations with 🧑‍⚖️ Judge Emoji
Combinations are just a bunch of emojis placed together, like this: ​🧑‍⚖️​🔇​. You can use combos to make riddles or messaging without words.


Tap / click to copy & paste
​🧑‍⚖️​🔇​

 — Silence in the hall

​🧑‍⚖️​🔍​

 — In search of justice

​🧑‍⚖️​⚖️​

 — Justice is being served!

+Add
---
🧑‍⚖️ Judge Emoji Skin Tones Modifiers
Tap / click to copy
🧑🏻‍⚖️️

🧑🏼‍⚖️️

Judge

medium-light skin tone

🧑🏽‍⚖️️

🧑🏾‍⚖️️

Judge

medium-dark skin tone

🧑🏿‍⚖️️
---
🧑‍⚖️ Judge Emoji look across different devices
Emojis may look different across platforms. Every web service, OS or gadgets' manufacturer may create Emojis design according to their own corporate style and vision. Here you can check out how 🧑‍⚖️ Judge Emoji looks like on most popular platforms:


🧑‍⚖️Your browser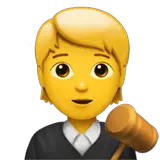 Apple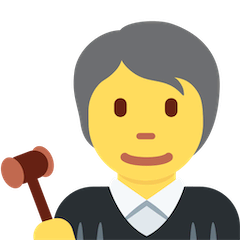 Twitter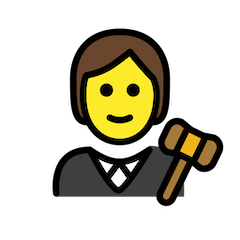 Openmoji
Related Emojis
General information about 🧑‍⚖️ Judge Emoji
Full name
🧑‍⚖️ Judge
Category
🤷 People & Body
Subcategory
🕵️ Person Role
Unicode (fully-qualified)
U+1F9D1 U+200D U+2696 U+FE0F
Made with
U+1F9D1 🧑 Person
U+200D Zero Width Joiner
U+2696 ⚖️ Balance Scale
U+FE0F Variation Selector-16
Unicode (minimally-qualified)
🧑‍⚖ U+1F9D1 U+200D U+2696
Unicode version
N/A
Listed in
Emoji Version 12.1
Hex Code Points
1F9D1 200D 2696 FE0F
URL Escape Code
%F0%9F%A7%91%E2%80%8D%E2%9A%96%EF%B8%8F
Translations and keywords for 🧑‍⚖️ Judge Emoji