Meaning of 🫙 Jar Emoji
The emoji 🫙 "Jar" is an empty glass jar with a closed lid. Appearing in Unicode 14.0 in September 2021, the emoji represents tightness, the concept of storing food, putting something into preservation, savings, and emptiness.

🙅‍♂️ Are you out of food at 🏠 Home? Then send the emoji 🫙 "Jar" in a message. This will signal that it's time to go to the 🏪 Store and restock. To be even more specific, add the emoji of the food to be bought. This could be the emojis 🍪 "Cookie", 🥛 "Glass of milk" and 🫘 "Beans".

Use the 🫙 "Jar" emoji in combination with food emojis to discuss preserves, ready-made seasonings and any food stored in a jar. This way, share on social media that you adore 🫐🫙 blueberry jam, and exchange recipes with other users. Ask in a housewives chat how to make your own mayonnaise or sauce for 🍝 Pasta. Or get your partner's advice on what's best for 🍖 Meat: 🌶🫙 hot sauce or 🍅🫙 ketchup.

Attach an emoji when talking about the need to spare and save 💵 Money. An empty container will hint at the lack of financial savings, and a combination with 🪙 "Coin" and 🤑 "Dollar sign face" will suggest filling the space. +add

Copy & Paste this emoji:

📖 Contents:
---
Examples of 🫙 Jar Emoji using
Popular phrases with 🫙 Jar Emoji to use in messengers and web:


Tap / click to copy & paste
😡 Somebody ate 🍪 all the cookies! 🫙

+add
---
Combinations with 🫙 Jar Emoji
Combinations are just a bunch of emojis placed together, like this: 🫙🍯. You can use combos to make riddles or messaging without words.


Tap / click to copy & paste
🫙🍯

 — Honey jar

🏠🙅‍♂️🫙

 — No food at home

🫙🍪

 — Cookie jar

🫙🪙💵

 — Moneybox

🥒🍅🫙

 — Pickles

🍒🫙

 — Cherry jam

🤤🫒🫒

 — Yummy

🏠🍇🫙🍷

 — House wine

🫙🌶🥬🧄

 — Kimchi

+Add
---
🫙 Jar Emoji look across different devices
Emojis may look different across platforms. Every web service, OS or gadgets' manufacturer may create Emojis design according to their own corporate style and vision. Here you can check out how 🫙 Jar Emoji looks like on most popular platforms:


🫙Your browser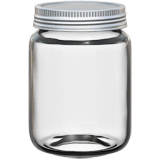 Apple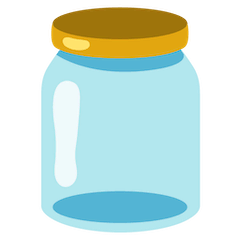 Google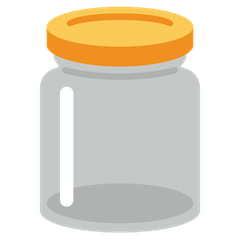 Twitter
Did you find what you were searching for? 🤔🔎



👍 Yes

      

👎 No



Thanks! ☀️
Related Emojis
General information about 🫙 Jar Emoji
| | |
| --- | --- |
| Full name | 🫙 Jar |
| Category | 🍕 Food & Drink |
| Subcategory | 🍽 Dishware |
| Unicode (fully-qualified) | U+1FAD9 |
| Unicode version | Unicode 14.0 (2021) |
| Listed in | Emoji Version 14.0 |
| Hex Code Points | 1FAD9 |
| URL Escape Code | %F0%9F%AB%99 |
Translations and keywords for 🫙 Jar Emoji