Meaning of 🫦 Biting Lip Emoji
The 🫦 "Biting Lip" emoji is included in Unicode 14.0 in 2021. It is similar to the emoji 👄 "Mouth", but this emoji features teeth biting the lower lip on one side. The represented motion signifies flirting, romance, sexual desire, seduction and coquetry. It can also express nervousness, anxiety, pain, worry and fear. Sometimes the reaction conveys shyness and indicates insecurity.

Often the 🫦 "Biting Lip" emoji is used in romantic and sexual communication as an indicator of excitement, anticipation, excitement, and flirtation. Used in another context, it is interpreted as fright, constant or sudden pain, nervousness, confusion, and discomfort.

Send an emoji as a reaction to your last date, 😏 Hinting at the possibility of continuing the relationship. Show the other half that you feel a thrill and excitement in anticipation of the meeting. Express some affection in a chat and be the initiator of the acquaintance. Combine 🫦 "Biting lip" emoji with emoticons from 💞 "Hearts" or ❤️️ "Love" collection.

Share on social media that you feel nervous and 😱 Afraid when you are in a 🚡 Cable car cabin or on a 🎡 Ferris wheel platform. In your texts with a colleague, express the feeling of 😖 Discomfort that you felt when talking to your new boss.

Also 🫦 "Biting lip" emoji sent in a combination with the 📮 "Objects" and 😂 "Smileys and Emotion" categories can signal an anxious 📖📝🤯🫦 preparation for exams, 🤔 Thoughtfulness or express a sudden confusion. +add

Copy & Paste this emoji:

📖 Contents:
---
Examples of 🫦 Biting Lip Emoji using
Popular phrases with 🫦 Biting Lip Emoji to use in messengers and web:


Tap / click to copy & paste
I can't wait to see you 😏🫦
You're so hot!!! 🫦
Damn, I bit my lip 🫦🩸
So what should I rather do 🤔🫦
😉 What do you say we continue the evening? 😏🫦

+add
---
Combinations with 🫦 Biting Lip Emoji
Combinations are just a bunch of emojis placed together, like this: 🤩🤤🫦. You can use combos to make riddles or messaging without words.


Tap / click to copy & paste
🤩🤤🫦

 — You look stunning

🌃🫦💞

 — Romantic evening

🫦😏😉

 — Flirting

🌃🍸😏🫦

 — What are you doing tonight?

🪑🦶😱🫦

 — It hurts so bad!

📖📝🤯🫦

 — Preparing for exams

🗣🙅🫦😖

 — Fear of public speaking

+Add
---
🫦 Biting Lip Emoji look across different devices
Emojis may look different across platforms. Every web service, OS or gadgets' manufacturer may create Emojis design according to their own corporate style and vision. Here you can check out how 🫦 Biting Lip Emoji looks like on most popular platforms:


🫦Your browser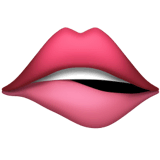 Apple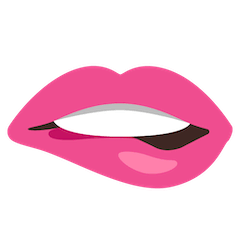 Google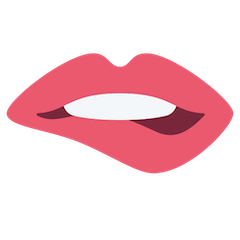 Twitter
Related Emojis
Related Themes & Holidays
General information about 🫦 Biting Lip Emoji
Translations and keywords for 🫦 Biting Lip Emoji