A modern trend: Emoji in 💼 business correspondence
Expressing thoughts and emotions with the help of emojis has already become a common practice in business e-communications. As an example, the 2022 survey conducted in the U.S. by Adobe shows that 71% of users use emoticons in their work correspondence, and 68% prefer it when others do as well.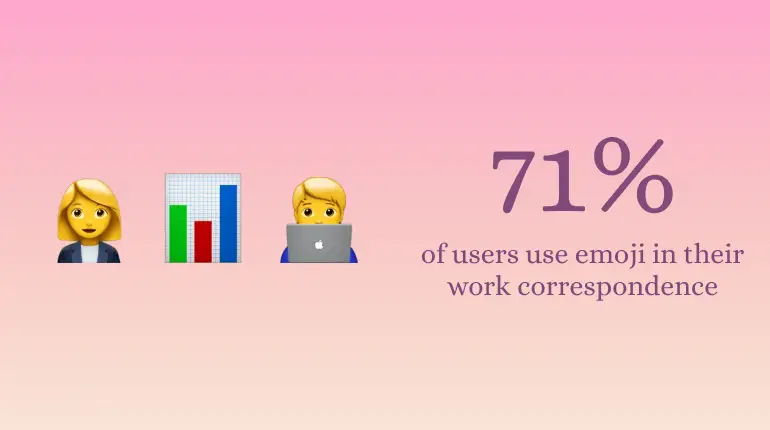 Percentage of users using emojis in work correspondence
Attitudes toward using emoji in business correspondence have also changed significantly. So, if in 2016 4 out of 10 clerks
said
that emoticons in messages from their colleagues demonstrated lack of professionalism, then 6 years later most
🧑‍💼 Office workers
believed that emoji in business communication increases the confidence in the interlocutor.
What else do we know about trends in emoji use in business correspondence? And should we use emoji when communicating with co-workers?
About trends in numbers
Emoji can reflect mood and save you time when you're texting. More than three-quarters of Americans agree when they say using graphic symbols at work helps communicate ideas faster and more clearly.
Adobe's "THE Future of Creativity: 2022 U.S. Emoji Trend Report" found that survey respondents believe that using emoji in business communication reduces the need for a call or live meeting by 47% and often even replaces them. Meanwhile, users of generation Z in this case note a higher chance of opening an email and getting a response quickly.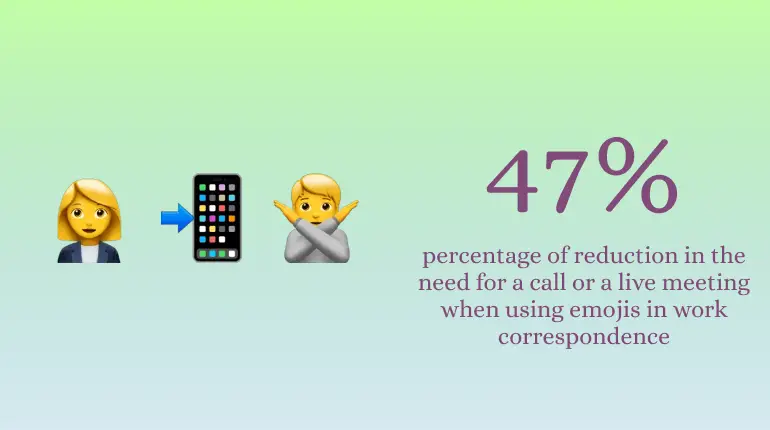 The percentage of reduction in the need for a call or a live meeting when using emoticons in work correspondence
If we compare Generation X and Boomers with Millennials, Generation Z representatives, the latter two would use emoticons in work correspondence much more often. Among the younger generation, eight out of 10 respondents do so. Seven of them expect reciprocity in their correspondence.
The older generation uses emoticons very selectively, if at all, in work environment. For example, to express an authoritative opinion.
There is also a division according to gender: women use emoticons at work less to convey their thoughts quickly but rather to express their feelings. Especially when it comes to positive news and building relationships with colleagues.
Overall, emojis in work correspondence have increased by 53%. Apparently, remote work, where a lack of face-to-face communication, eye and ear contact pushed users to use emoji, has influenced the increase in emoji use.
Emoji and interaction with co-workers
Almost two-thirds of those employed in the U.S., mostly the younger generation, reported that emoticons used in business communication make people seem open and friendly. And this, in its turn, reduces tension and makes the work environment more comfortable. Such correspondence helps to build relationships within the team, develop a corporate culture and feel a connection with the "remote workers".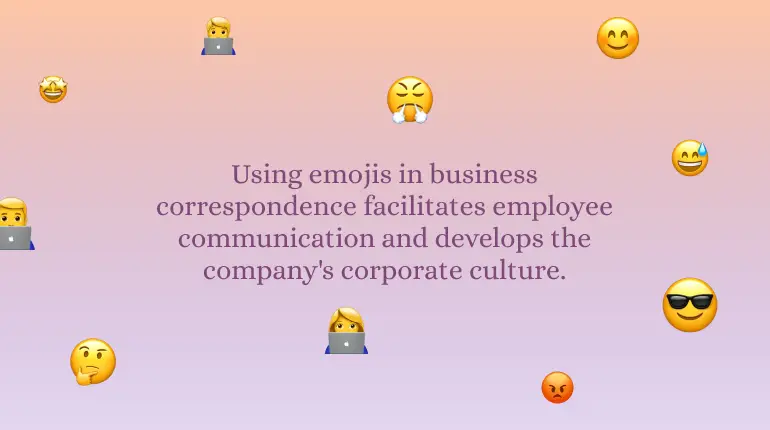 Using emojis in business correspondence facilitates communication between employees and develops the company's corporate culture
Emoji is also a universal way of communication, especially in multinational teams where not everyone in the team speaks their native language. In this case, it is an emoji that allows you to clearly convey the tone of the message and the meaning of information.
Chinese scientists have also
Proven
that emoji soften management criticism and do not provoke hostility. After a critical letter where management uses emoticons, subordinates are more enthusiastic about correcting mistakes and have a better attitude toward their work in general.
Creativity through emojis
Using emoji at work improves creativity, facilitates self-expression and helps almost 80% of people share their ideas faster. More than half of users' creativity increases, and the same number of respondents' work engagement increases.
In addition, emoticons in a message not only attract attention, but also help you to memorize what you have read better, making the information more comprehensible. All of the above increases the effectiveness of group decisions, in which 62% of respondents agree. Moreover, this figure increases as you get closer to young adulthood.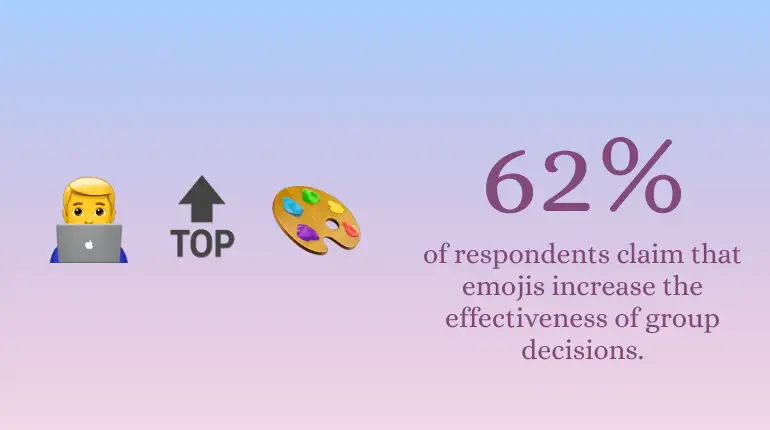 A percentage of respondents claim that emojis increase the effectiveness of group decisions
In summary:
the use of emoji in business communication has increased and gives its users a number of benefits:
saves time in correspondence;
helps to convey ideas, feelings and emotions more quickly and clearly;
reduces the tension in correspondence;
builds relationships within the team;
helps to memorize information better;
increases emotional intelligence.
But the main thing is to stay moderate in the use of emoji, correctly assess the audience and know the exact meaning of a particular emoji.