What feelings do social media users convey when using emoji?
Human emotions are complex, and cannot always be accurately expressed in written language. But this task can be solved by emojis, of which there are already more than 3.6 thousand at the disposal of users. Every year the number of users interacting with emoji is increasing, with an average of 66% in the U.S. alone.

But what kind of emoji do users use most often in social media and what feelings do they express in such a way? Here's what the results of global surveys tell us.
What are the most commonly used emojis in the world?
According to the
Unicode Consortium
, the first place in the list of ten most used emoji in 2021 occupies
😂 "Face with tears of joy"
. The emoji, which
was named
"Oxford Word of the Year" in 2015, has maintained its leadership for at least 3 years and has been
recognized
as the most popular emoji among Twitter users across 75 countries.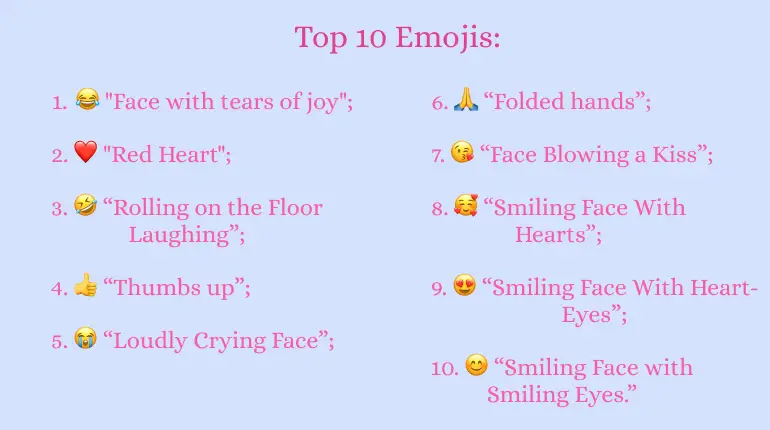 Top 10 most used Emojis
Slightly less popular was the emoji
❤️ "Red Heart"
. The emoji earned second place in the ranking. The other eight positions are taken by the following emojis:
According to more recent studies, for example, from the British media company
Brandwatch
, which determined the world's leading emoji over a period of six months from the beginning of 2022,
😂 "Face with tears of joy"
emoji remains in first place, while
❤️ "Red Heart"
has moved to the third position. The same results were obtained in a 2022 Adobe
survey
among U.S. residents.
What kind of emotions do users share online?
Based on the research above, users most often express love, joy/happiness and melancholy/sadness in their messages. The feeling of love is often demonstrated with the "Red Heart" and faces with hearts, which are combined with the "Face Blowing a kiss" emoji.
Joy or happiness are expressed with the emoticons "Face with tears of joy" and "Rolling on the floor laughing," sometimes even placing them together. And melancholy/sadness are conveyed via the "Loudly crying face" emoji.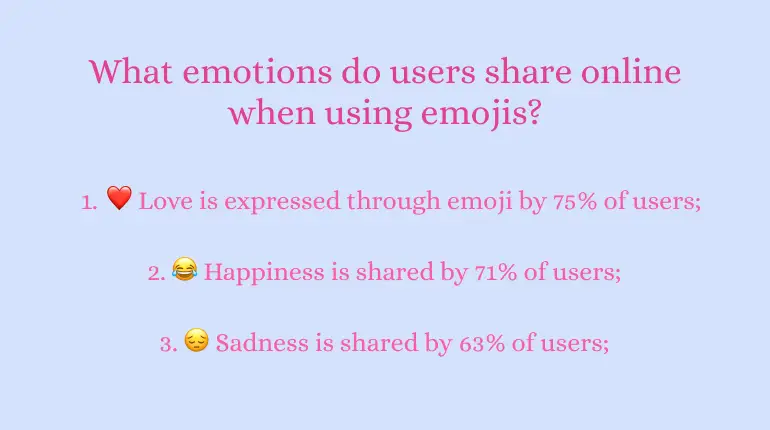 What kind of emotions do users share online
According to the Adobe report, similar results could be applicable to the Americans and their expression of feelings: love is expressed through emoji by 75% of users, happiness is shared by 71%, and sadness is shared by 63%. Only women and representatives of Generation Z stand out against this background.
The latter, in comparison with the older people, more often express more delicate emotions with emojis. In particular
🤮 Disgust
,
😔 Disappointment
or
😎 Pride
. As for women, they are more active than men in displaying their emotions with the help of emoji.
The feeling of support, represented by
👍 "Thumbs up"
, ranks eighth in terms of frequency of use among American residents. This is in addition to the fact that the emoticon is already in the top five favorite emojis in the U.S., while in the world ranking it is fourth.
Meanwhile, the feeling of
😲 Surprise
, which,
according to Brandwatch
, is not at all popular to express online, is often conveyed with the emoji by 54% of Americans.
It's quite evident
that using emoji helps vividly express not only
basic emotions
like joy and sadness on social media, but also more complex emotions like hurt, disappointment and pride. And, judging by the ratings, a large part of Internet users 😉 do it perfectly well.
Illustration by
Icons 8
from Ouch!