Meaning of ☣️ Biohazard Emoji
Biohazard emoji is used to show if there are biohazardous materials around. Biohazard dangers are biolgical substances that are dangerous to living beings, especially people. You will have to be extra careful when you see a Biohazard sign as it is really easy to catch an illness or disease, with just a prick of a contaminated needle.

Again, this is not an emoji scientists will use since they can speak about dangers. If you do get this emoji, you are most likely being warned by friends or other employees that work in a medical area to be careful of any biohazards that may have come up during the day. It can be confused with the Raidoactive emoji as they are similar dangers, so it can be accepted when in the rush of ⚠️ Warning against dangers.

Use it with a 😷 Face With Medical Mask emojishown and a 💉 Syringe emoji to better show just what exactly is a Biohazard. +add

Copy & Paste this emoji:

📖 Contents:
---
Examples of ☣️ Biohazard Emoji using
Popular phrases with ☣️ Biohazard Emoji to use in messengers and web:


Tap / click to copy & paste
☣️ needles in the office, don't touch them
Make sure to throw the ☣️ bandaids away properly this time

+add
---
Relevant kaomojis
Kaomojis are popular in Japan to share emotions and situations using Japanese grammar punctuations and characters. Like this: ☣️! You can use this creative style in messengers and web to impress your friends.


Tap / click to copy & paste
---
☣️ Biohazard Emoji look across different devices
Emojis may look different across platforms. Every web service, OS or gadgets' manufacturer may create Emojis design according to their own corporate style and vision. Here you can check out how ☣️ Biohazard Emoji looks like on most popular platforms:


☣️Your browser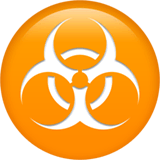 Apple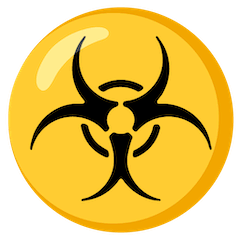 Google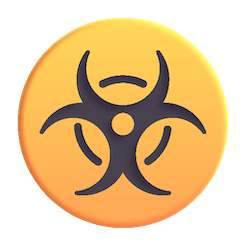 Microsoft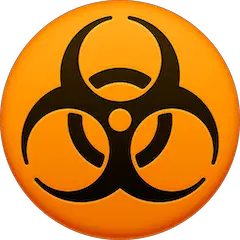 Facebook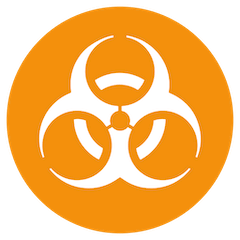 Twitter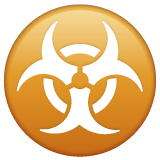 WhatsApp

Samsung

LG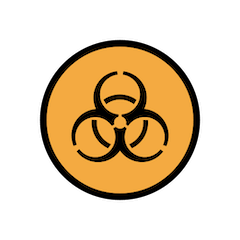 Openmoji
Related Emojis
Related Themes & Holidays
General information about ☣️ Biohazard Emoji
| | |
| --- | --- |
| Full name | ☣️ Biohazard |
| Category | 💯 Symbols |
| Subcategory | 📵 Warning |
| How to type shortcode | :biohazard: |
| Unicode (fully-qualified) | U+2623 |
| Unicode (unqualified) | ☣ U+2623 |
| Unicode version | Unicode 1.1 (1993) |
| Listed in | Emoji Version 1.0 |
| Hex Code Points | 2623 |
| URL Escape Code | %E2%98%A3%EF%B8%8F |
Translations and keywords for ☣️ Biohazard Emoji