🍺 Alcohol Emojis Collection
The Alcohol collection is filled with emoticons and emojis with different types of alcoholic drinks. It is suitable for lovers of cheerful and cozy evenings with friends, visitors to bars, and various celebrations and events.

Use the 🍷 Red Wine Emoji when you want to invite your soul mate to a romantic dinner. Or the 🍸 Cocktail Glass Emoji for a tasting night.

🍾 Champagne Emoji will help to show your waiting of the New Year and the miracle of the holiday. Combine it with the 🥂 Clinking Glasses, 🎇 Sparkler, and 🎄 Christmas Tree Emojis to tell how the Christmas party went.

Tell your friends on social media how great you had a movie and beer last night with 🎥 Camera and 🍺 Beer Mug emojis. And if you were in the company, then use the emoji 🍻 Clinking Beer Mugs.

The Alcohol collection contains not only drinks but also states of alcoholic intoxication. For example, you can easily show that you drank too much with the 🍷 Wine Glass or 🍺 Beer Mug and 😵‍💫 Face with Spiral Eyes emojis. Or use a combination of emojis: 🥴 Woozy Face and 🥃 Whiskey to show that you don't feel well after yesterday's trip to the 🏢🍾🥂🥃 bar.

The collection is also useful for those who are against the use of alcohol. Use the ❌ Red Cross and 🍺 Beer Mug emojis to show that you don't drink alcohol.

Interesting Fact: On July 4, 2014, 'Bud Light' marketers tweeted the composition of the American flag using the Clinking Beer Mugs emoji.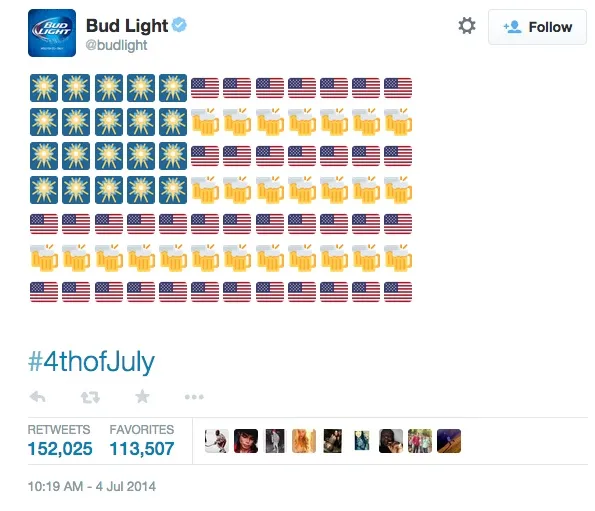 📖 Contents:
Combinations
Tap / click to copy & paste
🍸🍻🥂🍷🥃
— Types of alcoholic beverages
🌃🎥🍻
— Evening movie viewing
---
Phrases
Tap / click to copy & paste
Cheers! 🥂
⚠️🥃 Be careful with strong drinks 😵
🔞 Are you an adult ❓
😰 I don't remember yesterday evening 🥃🥴
🥴 Shh, this is a secret 😄
---
Collection