🇸🇪
Swemojis
Swemojis
is a set of emoji stickers from Wehay company, which reflect significant symbols for
🇸🇪 Sweden
and Swedish people: depictions of national traditions, ancient symbols,
🍕 Food
, natural phenomena and inventions.
Wehay is a small digital agency from Stockholm founded in 2003. In addition to branding, creating websites, making logos and print materials, the company develops apps and games.
Swemojis emoji set was released in 2015. And as of October 2022, it consists of 93 emoji, including: the emblem of the iconic pop band Abba; a sports
🎽 Jersey
with three
👑 Crowns
worn by the Swedish
🏒 Hockey
team; the traditional greeting and toast "Skål!"; the all-beloved cinnamon bun and much more that Swedes take pride in.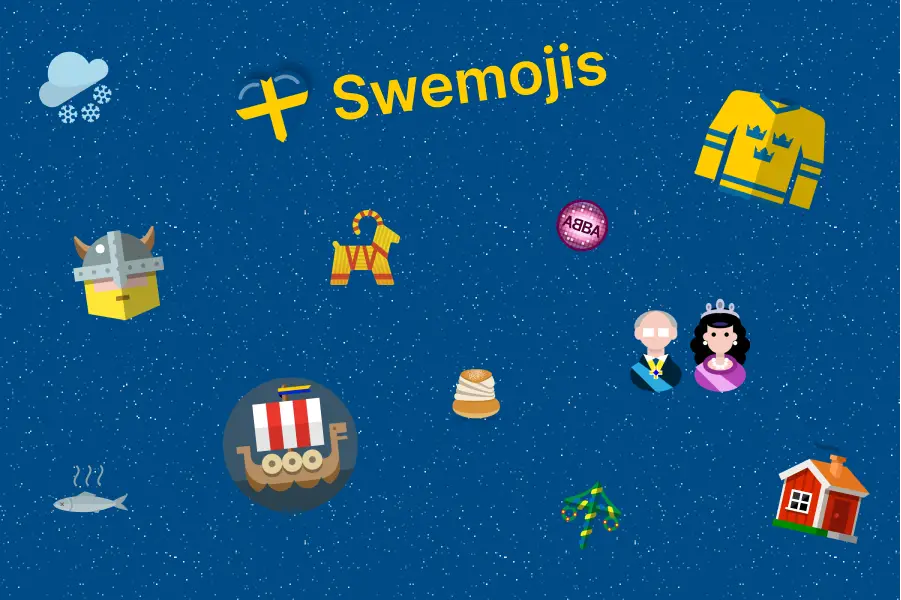 Emoji set — Swemojis
Users can also send developers their own emoji options, which can be included in the Swemojis package. In such a manner, following the last two updates, 15 new emoji have been added.
How to get Swemojis collection?
The Swedish app is available for download on
Google play
and
App Store
. Go to the virtual marketplaces, download Swemojis and follow simple setup steps after logging into the app. Users will then get an additional
⌨ Keyboard
for messaging on iMessage,
Telegram
,
WhatsApp
and other messengers.
Swemojis are sent as a standalone image, the size of which can be adjusted. To do so, press and hold the sticker to select one of the options: normal, medium or extra large.