Meaning of 🧑‍🎓 Student Emoji
Student emoji represents someone advancing their education regarldess of their age. This emoji combines a human faces emoji and graduaction cap emoji, so it can be used to show that someone has already graduated. Or it can be used to show someone that you are eager to learn under them.

Send it with the 🎒 Backpack emoji to show you are ready to start learning. Or send it with the 🎆 Fireworks emoji to show that you are going to graduate. +add

Copy & Paste this emoji:

This emoji has other gender variations: 👩‍🎓 Woman Student, 👨‍🎓 Man Student.

📖 Contents:
---
Examples of 🧑‍🎓 Student Emoji using
Popular phrases with 🧑‍🎓 Student Emoji to use in messengers and web:


Tap / click to copy & paste
I think I'm ready to go to college this year 🧑‍🎓
I'm so ecxcited to be learning how to play the piano from you 🧑‍🎓!

+add
---
Combinations with 🧑‍🎓 Student Emoji
Combinations are just a bunch of emojis placed together, like this: ​🧑‍🎓​😭​. You can use combos to make riddles or messaging without words.


Tap / click to copy & paste
​🧑‍🎓​😭​

 — Studying is over

​👨‍👩‍👧‍👧​👌​🧑‍🎓​

 — My relatives are proud of me

​🧑‍🎓​✔️​

 — Graduation

+Add
---
🧑‍🎓 Student Emoji Skin Tones Modifiers
Tap / click to copy
🧑🏻‍🎓

🧑🏼‍🎓

Student

medium-light skin tone

🧑🏽‍🎓

🧑🏾‍🎓

Student

medium-dark skin tone

🧑🏿‍🎓
---
🧑‍🎓 Student Emoji look across different devices
Emojis may look different across platforms. Every web service, OS or gadgets' manufacturer may create Emojis design according to their own corporate style and vision. Here you can check out how 🧑‍🎓 Student Emoji looks like on most popular platforms:


🧑‍🎓Your browser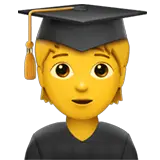 Apple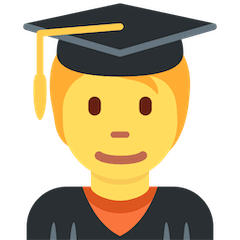 Twitter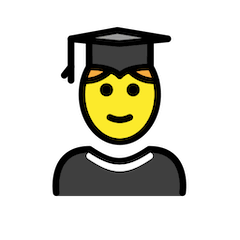 Openmoji
Did you find what you were searching for? 🤔🔎



👍 Yes

      

👎 No



Thanks! ☀️
Related Emojis
General information about 🧑‍🎓 Student Emoji
Translations and keywords for 🧑‍🎓 Student Emoji