How do emoji impact our 💆‍♂️ mental health?
Mental health is a state of mental well-being that allows one to deal with routine and stressful events in one's life. Therefore, it is natural that one of the elements of the concept is emotional well-being, which is directly linked to the expression of emotions. And while science is searching for optimal ways to achieve this state, let's talk about how the psycho-emotional side is affected by virtual expression of emotion in the form of emojis.
Positive impact
In order to find out more, let's look at "THE Future of Creativity: 2022 U.S. Emoji Trend Report," a
survey
conducted by Adobe in the United States. Thus, according to the survey, using emoji in correspondence lifts your spirits, which about 90% of the country's residents are confident about. But for older people it happens more vividly and more often than for young people.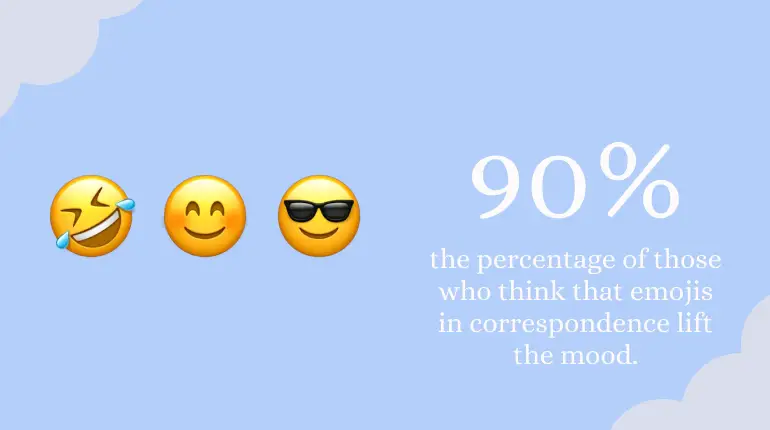 The percentage of those who think that emojis in correspondence lift the mood
A good mood increases the number of positive emotions. That, in its turn, not only improves communication, but also increases resistance to stress and makes everyday life happier. And this is exactly what is influencing mental health.
This impact is acknowledged by 60% of Americans, according to whom the use of emoji has a positive effect on their mental health. The figures do not vary much separately by region, the same difference can be seen between generations, with millennials reaching 70%.
Similar
results
were obtained by scientists at the University of Michigan. They studied the psyche of remote workers, who often use emoji to express feelings, and found that they have better emotional health from the rest.
Even sad emojis may have a positive influence on emotional well-being. Particularly when a person is not hiding a bad mood behind playful emoticons, but has passed the stage of acceptance and expresses true feelings.
That fact indirectly explains a 2007
study
, which proves that acknowledging and accepting bad emotions reduces anxiety and calms the brain. Another advantage is that the receiving party correctly understands the mental state of the interlocutor, as reported by nine out of ten Americans, which increases the emotional intelligence of the users.
Negative impact
One of the negative effects occurs when a person tries to hide a depressed mood and instead uses smiling emoji to display joy in messages. Such an emotional effort tires you out, exhausts the psyche, causes feelings of anxiety, and often leads to serious mental illness.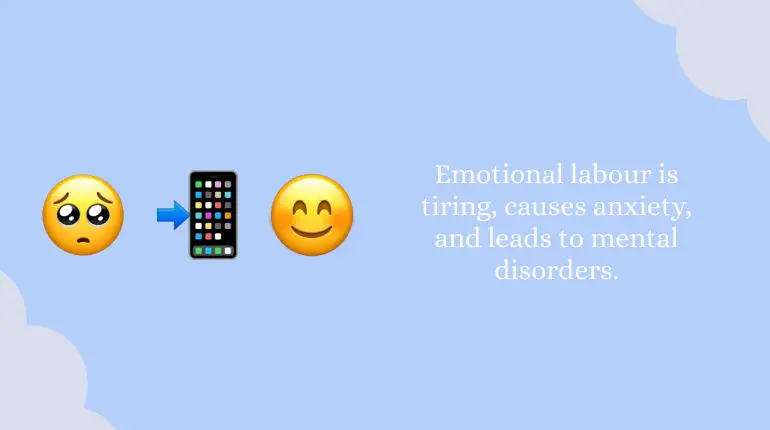 Emotional labour is tiring, causes anxiety, and leads to mental disorders
In addition, the emotional background is adversely affected by the difference in the interpretation of the emoji meanings. For example, it
was found
that the degree of misunderstanding of smiley faces is generally higher than that of other emojis, and the emotional reaction of two people to the same negative emoji sometimes differs by 26%.
A simple example of ambiguity is the emoji depicting a
🙏 Person with folded hands
together. But even in such a seemingly innocuous case, misinterpretation can lead to misunderstandings and broken relationships, ultimately affecting mental health.
One last thing. According to some psychologists, uncomplicated emotions are too simple to indicate complex human emotions. Over time, this simplification of feelings may impair people's ability to express emotion. But for now, this is only a hypothesis.
As we can see
, emoji can affect a person's mental health in different ways, both positively and negatively. Therefore, emotional well-being can only be ensured through sensible use of emoji.